The Amerindians are the most at-risk group in Guyana and the PPP/C is committed to improve their livelihood and living standards.
Robeson Benn, Minister of Public Works, made this pledge during his Republic Address on February 22 at the Kumaka Recreational Ground, Region One (Barima-Waini), a release from the Ministry said yesterday.
"We recognize that our Amerindian people throughout the country need to access and benefit from all aspects of the social, economic and developmental spheres irrespective of where they are living," Benn told residents.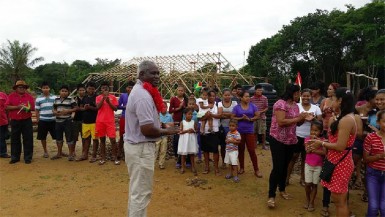 "The party I represent has been making great efforts to improve their livelihood and living standard."
He said that the combined opposition's refusal to approve funds for hinterland airstrips' maintenance was a thoughtless act which has denied many Amerindians their basic rights. The opposition has argued that it withheld support for some programmes which the government didn't explain and which programmes were lumped with other expenditures such as for airstrips.
Benn emphasized that the airstrips are critical for the movement of goods and services in and out of these communities.
The failed Amaila Falls Hydropower project was also addressed by the Minister.
Benn told his audience that approximately, $70M has been set aside this year to improve the road networks in the Moruca sub-region.
"13.5 kilometers of new roads were developed in the area; however, some of them are not up to standard.
We have to make a change. I have instructed my Engineer so that we make that change quickly," Benn stated.
Around the Web