A fight between two women has left one with a permanent scar to her face and her longtime friend facing four months in jail.
Marcia Williams was on Friday found guilty of unlawfully wounding Oneka Fullington.
According to the evidence given in the case, Williams was drinking at her mother's stall at the Stabroek Market Square when an argument began between her and Fullington.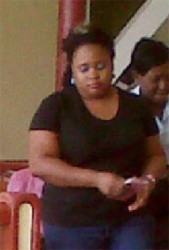 A scuffle ensued and Fullington was smacked with a beer bottle to her face, causing a gaping wound and resulting in her losing consciousness.
Presiding Magistrate Annette Singh told the court that the prosecution proved its case beyond a reasonable doubt.
However, attorney Lesley Benjamin, who represented Williams, told the court that the women were friends for about 20 years and there was never an issue until the fight. Benjamin added that Williams became annoyed after Fullington began talking about her in public and she did not intentionally wound her.
In addition, the attorney asked the magistrate to consider while handing down her sentence that her client was a first time offender and she had two children to care for.
After listening to counsel's submission, the magistrate told the court that she considered all those factors, including the fact that Fullington now has a lifelong scar to her face. Williams was then sentenced to four months in prison.
Around the Web