The suspect in a home invasion and robbery was yesterday freed after the victims refused to give evidence against him.
Andray McPherson of Tucville Housing Scheme, Georgetown, was freed by Magistrate Judy Latchman at the Georgetown Magistrates' Courts, where he was due to face a trial.
It is alleged that McPherson, being armed with a gun, robbed Marcia Duke of a cellular phone and a quantity of jewellery, amounting to $160,000, on September 2, at Lamaha Park. It is also alleged that on the same date, being armed with a gun, McPherson robbed Wendy Griffith of a television, valued $140,000. And lastly it is alleged that McPherson robbed Alicia Browne of $10,000.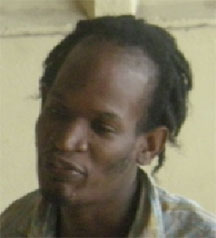 The police's case was that McPherson entered the home shared by the three victims, drew a gun on them and robbed them. He later made good his escape. However, sometime after a report was made, an ID parade was conducted where McPherson was positively identified by the victims and subsequently charged. But Duke, Griffith and Browne yesterday informed the court that they wished not to give evidence against the accused.
McPherson was later seen walking out the courtyard with his excited family members.
Around the Web