The body of an unidentified man was pulled out of a canal near the Square of the Revolution on Homestretch Avenue yesterday afternoon.
The man, of East Indian descent and dressed in a plaid shirt and khaki pants, was discovered submerged in the water around 2 pm by a vagrant who alerted a group of high school students.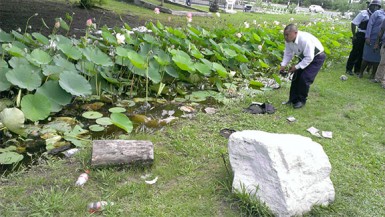 Three photographs were scattered next to a courier bag believed to have been the man's. An empty vodka bottle, a cell phone case and a key were also discovered. When undertakers pulled the body out of the water, investigators quickly checked for any visible marks of violence but found none.
The body was then taken to the Lyken's Funeral Home.
Around the Web