The decomposed body of a Charity, Essequibo Coast man was yesterday found in his home when an obnoxious smell emanating from the house was investigated.
The man was identified as Ganesh called 'Braff' and according to police he was around 55 years old.
Residents living near the man's Extension Scheme home said that he was known to abuse alcohol and was last seen on Friday.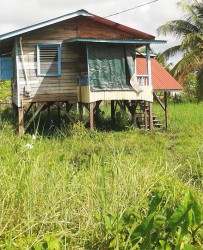 "We did not know that Braff was dead. When people started smelling a bad stench then is when we suspect that he was dead.  We called the police and they had to break down the door to get into the house," a resident said.
The man reportedly lived alone and may have died on Friday or Saturday as his body, which was found face down was in a state of decomposition.
"A lot of flies were around the area this morning and the only thing that was left for us as neighbours to do was to call the police because we just couldn't go in the house," one resident said.
No foul play is suspected by the police, but investigations are ongoing.
Around the Web