Murder accused Jarvis Small and Bibi Sharima-Gopaul yesterday both denied killing 16-year-old Neesa Gopaul, after they were both called on to mount a defence at their trial.
Justice Navindra Singh overruled no-case submissions made by attorneys for Small and Sharima-Gopaul and they both opted to give unsworn statements, which shielded them from questioning by either the court or the prosecution.
Small, called 'Barry,' and Sharima-Gopaul, the mother of the murdered teen, are accused of killing the 16-year-old between September 24, 2010, and October 2, 2010, at Madewini, Linden-Soesdyke Highway. The teen's body was found stuffed into a suitcase, which was anchored in a creek at the Emerald Tower Resort with several dumbbells.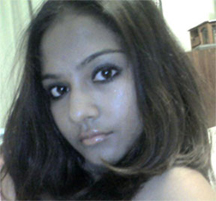 In a courtroom filled to capacity even after additional seats were brought in, Small spoke for the first time publicly on the allegations against him.
"Sir, I'm innocent of this charge. I did not kill Neesa Gopaul, nor did I play any part in killing her," he told the court.
Small went on to say he never told a police officer that he knew who killed Neesa Gopaul. According to him, another officer had asked him if he knew who would want to kill the girl and he said he thought he knew who would but added that he would say so only in the presence of his attorney.
Detective Assistant Superintendent Mitchell Caesar had testified that when he interviewed Small, the accused said he did not murder Neesa Gopaul, but knew who did and that if he should relate the story, the investigation would take another direction and Sharima-Gopaul would be charged as an accessory.
Meanwhile, several police witnesses, including Caesar and Superintendent of Police Hugh Jessemy had testified that Small had told them during an interview that he did not murder the teen but knew who did and that if he were to reveal that information, the investigation would turn in the "correct direction."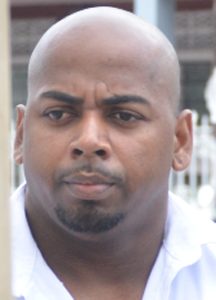 Small also stated that he never claimed ownership of the dumbbells shown to him by police.
Small said he and Sharima-Gopaul did share a relationship, but it had ended long before September 23, 2010.
He said on September 25, 2010, the woman called and told him that Neesa was missing and in tears she said she wanted to see him. He said he agreed to meet her, but away from the public's eye so that his wife would not find out.
Small said he had grown to love Neesa and her little sister Merriam like his little daughters and would never want to do anything to cause harm to her.
"I would like the police to find the real killers and let them pay for what they did to Neesa," Small said.
In a voice which was calm and firm, he pointed out that his freedom had been taken away from him, from his wife and from his children for a crime he knew nothing about, and of which he is innocent.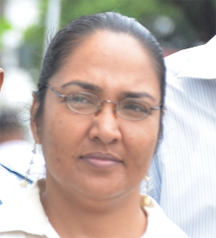 "I never encouraged Bibi to kill her husband or anyone else," the man said.
"Sir, I'm a Christian man," he continued, adding, that he is the father of three children, brother to five sisters and a husband of one wife. On the last note, he turned and looked at his wife, who sat in the courtroom. He said he loved his wife very much. "I did backslide. I did cheat but I never killed." He said. "I'm not a killer, I'm a family man."
At the end of his statement, which lasted for about 10 minutes, one of his four attorneys, Lyndon Amsterdam, informed the court that that was their case and they had no witnesses to call.
 'Lies'
Meanwhile, Sharima-Gopaul, who constantly cried throughout Small's testimony and her own, was next to address the court and she did so for almost three hours.
"I didn't stand-by and allow Jarvis Small or anyone else to kill my daughter," she declared. "Sir, I did not hurt my daughter. I never put my daughter in no bag. I would never throw my child away… I protected my daughter, I did not kill her," she added.
Responding to the testimony of her former cellmate Simone De Nobrega, who said Sharima-Gopaul had confided in her that Small murdered her daughter by bashing her head in with a piece of wood, the accused said the woman was a liar.
Sharima-Gopaul said at no time did she ever sleep in any cell with De Nobrega nor did she ever make any confession to her. She told the court that one afternoon while at the East La Penitence Station, she overheard De Nobrega and another prisoner, whose name she give as Onika King, plotting an escape. She said she reported what she had heard to the police and was resultantly cursed by De Nobrega. "The things she said I told her were lies," she said.
De Nobrega had surrendered to police on last Thursday before taking the witness stand as she had been previously convicted in a lower court and sentenced to five years in her absence for the charge of obtaining credit by false pretense. De Nobrega had also said the woman implicated herself and Small in the poisoning death of her husband and Neesa's father, Javed Gopaul.
The accused, however, said that her husband died as a result of diabetes. "Sir, I didn't kill my husband, nor did I feed him any poison," she said. "I love my husband and kids… I tried my best to do what was best for my children."
Sharima-Gopaul, who was visibly distressed throughout her testimony, recounted the night she said she spent with her daughter before she went missing.
According to the woman, on September 23, 2010, she collected her children from school and they all went home. According to the accused, they all had dinner and after the children had completed their homework, they took baths and retired to bed to watch television, which they usually did in their bedroom until they fell asleep.
The woman said she and her children slept in the same room on one bed. She said when she awoke the following morning, Neesa was not in the room, although that was not unusual since whoever first woke would begin doing whatever needed to be done.
Sharima-Gopaul said when she realised that her eldest daughter was not coming to bathe, she looked around for her but did not find her. She said it was not the first time that her daughter had gone out without her knowledge or went somewhere without her permission.
According to the woman, that day, the ISA Islamic School which both her daughters attended, had a half-day session to facilitate a Parent-Teacher Association (PTA) meeting and so she assumed that Neesa had gone out with her friends.
The accused said she waited out that entire day, but Neesa had not gone home. She said she subsequently reported her daughter missing to police, after which she called persons who knew Neesa to find out if anyone had seen her.
"I checked places, but I never saw her," she said.
According to Sharima-Gopaul, on October 3, 2010, she received a call from police who informed her that her child had been found dead. The woman said she was subsequently taken to the funeral parlour, where she was shown a body, clad in a top, like the one Neesa was last seen wearing. "I thought she was my daughter, but I didn't know," she said, adding, "They had her cover up."
Sharima-Gopaul denied ever being shown items which police said were found at the scene, which included dumbbells, ropes, a passport and bankcard in favour of the deceased, a bag, a sheet and a dress.
"I told the officer I don't know them, they are not mine," the accused said. She said she had suitcases at her house, but no bag like the one her daughter's body was found in.
The woman said that she is a seamstress, and sewed all her sheets, pillowcases, curtains and clothing too.
Addressing a photograph that was tendered into evidence and which Ceasar had questioned her about, she said she identified her daughter Merriam in it. In the photo there was a rope in the background but she pointed out that the photo had been taken one year prior.
She said at that time Merriam was dressed in her Leonora Primary School uniform but at the time when she questioned about the photo, her little daughter was already attending the Islamic School.
The woman said that on the day the police approached her at Parika, she had seen Small and decided to follow him to a hotel there because she wanted to see where he was going and whether her child was there.
Responding to the prosecution's submissions about the alleged rape of Neesa Gopaul by Small—allegations which were made then withdrawn by the girl—Sharima-Gopaul said she made those reports at the Leonora Police Station after her daughter had told her that Small had sexually assaulted her. She said she took the teen when the report was made and that she never returned with her to recant her story of the rape. The woman said that at the end of the first visit to the police, her daughter told her that it was a lie.
She said it was for this reason that she never returned with her daughter to give anymore statements, coupled with the fact that Neesa had also told her, after giving that first statement, that she was afraid.
Between gasps and pauses, the woman said the only report which was withdrawn by affidavit before a Justice of the Peace, was one she had made against Small, whom she had accused of physically assaulting her and fracturing her hand.
The woman said she withdrew the reports because, "Sir, he tell me that if I didn't withdraw the charge, he will have to get my daughter out of the picture." She added, "I was afraid, and that's why I withdraw the charge."
Sharima-Gopaul, who could be seen using an asthma inhaler, said she was beaten by Small on numerous occasions but was ashamed to tell her parents, since her relationship with the man was against their wishes.
Sharima-Gopaul also said the intervention of the Child Care and Protection Agency (CC&PA) in the lives of her children came when Neesa went to school with brands on her arm and was taken to the police station by a teacher.
The woman said because her daughter would sleep out, she transferred her from Queen's College (QC) to the Islamic school as her extra lessons could be done right there, as opposed to QC, where children would have to go elsewhere for such lessons.
According to Sharima-Gopaul, her decision to send her children to the Islamic school was not because she wanted to "stuff Islam down their throats," but because of the lessons. She also noted that Neesa's grades were dropping drastically before the transfer.
Sharima-Gopaul said, "I admit I did a very wrong thing in having an affair, but I ended it, Sir."
The case continues this morning when the prosecution will respond to submissions regarding Sharima-Gopaul's statement regarding the CC&PA.
Around the Web