In the four months since he moved into his partially completed home at the new Culvert City Housing Scheme, Ovid Hernandez has had to cross the road to get water in a bucket from a deep hand-dug well in another lot in the sparsely settled development under the gaze of the lofty Kanuku Mountains.
These days, with a son recently born, he has to make the trip more often but as the hot sun heralds the dry season in the Rupununi, turning the sprawling grasslands into different shades of brown, the water level in the well has dropped and is only a few inches off the bottom. There are pipelines in the scheme laid four years ago, residents said. But the few who live there have not been connected yet and have to rely on hand-dug wells instead. There is also no electricity at Hernandez's home, although a few weeks ago the power lines in the scheme were activated.
"Everything is money," Hernandez said, when Stabroek News visited the Region Nine community close to the border with Brazil earlier this month. "Is only a certain set of people benefiting. Small man gotta remain poor all the time."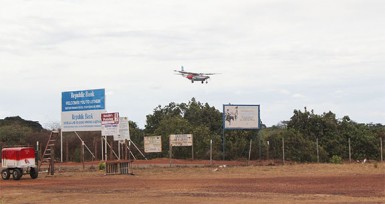 Lethem, according to residents, now has a population of 5,000. Over the past few years, the border community has grown at a rapid pace as a number of persons have migrated to the community and businesses have set up cavernous warehouse-like stores that sell items ranging from fresh produce to clothing to hardware and vehicles. The growth in the Brazilian economy has fuelled the growth in Lethem although the current downturn in the Portuguese-speaking giant has also affected the community. Housing had also increased, with schemes established in Tabatinga and Culvert City.
The community has potential, residents said in a series of interviews, but the flow of resources to the community for development is not nearly enough, services are poor or need improvement, infrastructure is lacking and governance leaves much to be desired.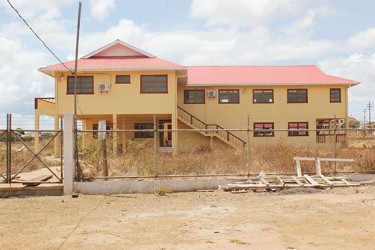 "We're still developing in pockets. We still developing in an ad hoc manner. Lethem is growing but there is still absolutely no plan for drainage. There is no sewage system," President of the Rupununi Chamber of Commerce and Industry (RCCI) Daniel Gajie said in an interview in his hotel in Lethem's commercial area. There is need for a comprehensive development plan for Lethem but the authorities have shown no intention of effecting one, he said.
In Tabatinga, roads constructed recently have developed huge potholes, culverts in Lethem lead to nowhere, there is no drainage system, wells dug at a cost of millions have no water, the hospital lacks equipment and trained personnel and officials face numerous accusations of favouritism, victimisation and corruption.
Chairman of Region 9 Wilson Lorentino refused to speak with Stabroek News on the many concerns raised by residents. "People have a right to complain. Wha you wan me do about that?" he snapped when approached. "Why you don't go to local government? I just about to go out," he added before abruptly walking away to his car.
Unfair land allocation
For many residents, a burning issue was what they described as the unfair distribution of land. Many coastland residents now have lots in the community, while persons from the area are given a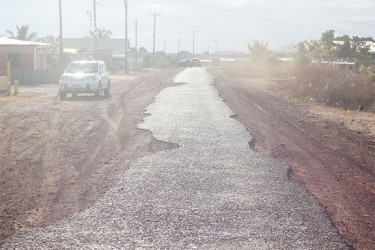 hard time in securing land at a high price, several residents said. One man noted that some persons have been waiting for months for their applications for land at Tabatinga and Culvert City to be processed and they were not getting through but others not from the area are "jumping off a plane and getting land and jump on a plane and going back and people here are given a hard time."
The cost is also high, with residents saying that house lots previously cost $98,000 but now can range from $300,000 to $700 000.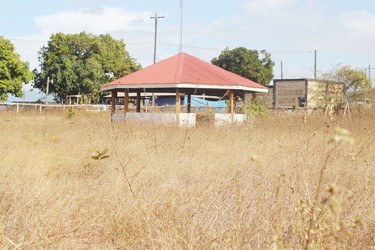 Many residents did not want to give their names because they feared victimisation. However, Basdeo Ramlall said the housing official wanted to take back a lot awarded to him because he already had a piece of land. However, he explained that he built his house on a piece of land belonging to a relative. He alleged that the official has been involved in several irregularities as it relates to land allocation.
Ramlall also pointed out that some roads in the Tabatinga Housing Scheme were built costing over $100 million but they are narrow and the potholes are numerous. According to resident Debra McDonald, the roads were done before the 2011 elections and have since deteriorated badly. Further, it is only now that residents of the scheme are getting running water, five years after the scheme was established, Ramlall added. It was noted that a few wells were dug but were useless and had to be capped.
They also alleged that relatives of officials are given preferential treatment and significant amounts of land, which is not supposed to be the case. One resident said that "nepotism plays a big role in Lethem" and explained that relatives of government officials can get land quickly while others cannot.
The official in charge of the land allocation process in Lethem declined to speak when approached by Stabroek News and said that the Central Housing and Planning Authority (CH&PA) must be contacted.
It's worse than before
In 2012, the Ireng/ Sawariwau Neighbour-hood Democratic Council (NDC), which has responsibility for Lethem, was dissolved and replaced by an Interim Management Committee (IMC) headed by businessman Alfred Ramsarran. But according to residents, the level of services has declined and questions have also been raised about a number of contracts awarded to firms connected to Ramsarran. The businessman was overseas when Stabroek News visited Lethem last month.
"It's worse than before," Gajie said. "Nothing is happening. There have been no improvements, I thought there would have been," he said, while noting that he had asked if installing an IMC would see more money being released to provide more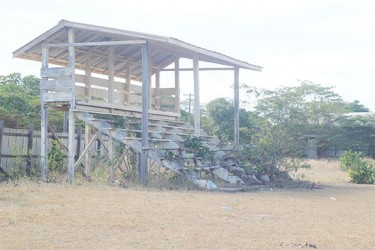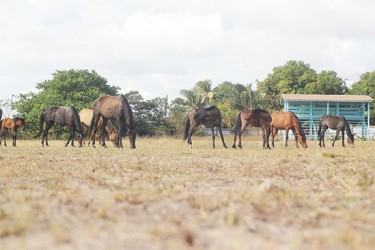 services but the answer was no so he questioned the move. "You still have people building on reserves, you still got people building within the boundaries from the fence without being corrected," he said, while noting that in relation to dumping of garbage, he has made several complaints but the overseer has no transportation.
The NDC previously provided a garbage collection service but this is no longer the case and a private firm has stepped in. While the service is better, Gajie noted that the service is too expensive for some persons and a number of residents and businesses burn their garbage or dump it themselves. He said he is not pleased that the local government authority cannot provide this service. He said the contractor is supposed to be managing the dumpsite but has some limitations in terms of equipment and a workforce.
"In my opinion, I would still like to see the local NDC authority at least keeping the parapets clean of garbage. They don't do that. I would still like to see the local authorities coming down on persons who have empty lands and are not weeding it or who are living on a portion of a land and are not keeping it properly cleaned," Gajie said.
Another man, who did not want to be named because he works for the government, also pointed out that there are several facilities, such as the Lethem Sports Ground and the children's play park, which now come under the authority of the IMC but have been neglected. Weeds have taken over the play park, while individuals maintain a part of the sports ground to play football. However, the stand and the latrines have also been taken over by weeds and termites while horses roam the field.
Another issue raised was the state of the abattoir, which is seen as a stumbling block for export of beef to Brazil. Gajie said when the Brazilians came to inspect it, it was not up to their standards and they made several recommendations. He said the current condition is "appalling," with no dedicated water supply or cold storage facility. This was acknowledged by persons at the abattoir when Stabroek News visited. "If you want to export to a country like Brazil, you gotta get your act together," Gajie said. It was noted that beef prices are higher in Brazil and Guyana can supply a portion of that market but the state of the abattoir is the stumbling block.
Still not up to standard
In terms of water, residents said the service has improved since the Guyana Water Incorporated (GWI) had dug some new wells but it is still a far way from being up to standard and several complained about the quality of the water, which they said was not suitable for drinking and other domestic purposes.
"Water, unfortunately, is still dependent on the supply of electricity," Gajie said, while noting that at the moment, because the supply of electricity is fairly stable, the community has a fairly stable supply of water.
He said they receive water every other day for about four to six hours, so they have to store water. In the rainy season, he said, the quality of water is fairly good but he recalled that there was a time in the dry season when the water would get "salty" and the presence of lime would increase. However, with two newly-dug wells, the water quality has improved a lot, he said, while adding that there are three wells in operation currently to supply Lethem and the old Culvert City housing area and service lines are now being connected in Tabatinga.
However, the main business district is not serviced by the water utility service. "The commercial area don't have any water. Everybody in the commercial area had to drill their own well at a high cost," the businessman said, while adding that this cost about $1.6 million to drill and for the pump. He said he does not know why the commercial area does not have any water from GWI. "I wrote the CEO of GWI Mr [Shaik] Baksh indicating my interest in receiving water from GWI. I have not received a response up to today and that letter was written since December," Gajie said.
According to Gajie, the answer for water supply to Lethem or St Ignatius lies at the Moco Moco or Kumu falls. He said the water can be piped to the communities without any major recurring expense. He noted that a treatment plant can be set up for dust and bacteria but for the current wells, electrical pumps are used at a cost and they also cannot produce the pressure that is in demand.
 Improved power supply
The electricity supply has also improved tremendously, Gajie said though he added that there are some issues with management. Previously, the community was plagued with power outages. Gajie said when he was acting Chief Executive Officer of the utility, the average day supply was taken from 20 hours to close to 24 hours with the same old engine.
The Lethem Power Company has since received new engines and the power supply is stable, residents said. However, there are still some challenges. "They supposed to have five engines in all but is only two engines working right now because of some challenges they have," Gajie disclosed.
He said he is not happy with the way the company is being managed and alluded to reports of corruption and mismanagement of finances. He said the company still does not have an electrical engineer on staff after one went to train and found that the company is unwilling to take him back. Gajie noted that the person is a local resident and qualified. "I support his return. Even if not as the CEO, he should have come back as the technical person, where the electrical aspect of it is concerned," he said while also noting that the present CEO has a mechanical engineering background.
"Imagine, even with a mechanical engineer on location, you still get engines down that cannot be fixed almost a year now," Gajie said, while pointing out that three are down, including a brand new engine that developed a fault and to date, neither the manufacturer nor the supplier has moved to fix or replace the engine.
The RCCI head also urged a reduction in rates. "At the moment, we need to receive a similar reduction in the rates percentage wise, 'cause we are paying, our rates are much higher than Georgetown right now and the fuel price has dropped significantly," he said. The cost is $80 per kWh in Lethem and Gajie said that he would like to see it go back down to at least $60 per kWh.
 'These doctors they send here can't mek it'
In terms of health care, many residents expressed unhappiness with the situation at the Lethem Hospital. Debra McDonald said the health system is very poor. "We need a mature doctor. These doctors that they send here, they can't mek it. We need a mature doctor to be their guideline," she said, while noting that the in-training doctors that were dispatched needed to be guided.
The woman said the young doctors cannot handle minor issues and often refer patients to Brazil. There are also other issues. She recalled instances where the medical personnel resorted to taking photos of conditions and sending these to other doctors for assistance.
McDonald recalled that her sister, who is diabetic, was in the hospital with an ulcer and after not being given the desired treatment, asked for a referral which was refused. She said relatives eventually had to take the woman to the St Joseph Mercy Hospital in Georgetown, where they learned that she had been overdosed with antibiotics which had to be flushed out of her system. She related another instance when another woman was suffering from gallstones and had to take her discharge and seek treatment in Brazil.
The woman said shortage of drugs is another problem and they have to resort to a pharmacy in the community otherwise they would not get any. She added that the x-ray and ultrasound machines sometimes work and sometimes do not and there is no personnel to operate the machines. In addition, residents said, there is poor ventilation at the hospital.
Another man related an incident where a pregnant woman was sent by the hospital to Boa Vista in Brazil and she began to give birth during the journey but the doctor accompanying her kept closing her legs. Eventually, the woman just opened her legs and pushed and the baby was born but was turning "blue," the resident related. He said the child is now showing signs of brain damage.
Gajie said the hospital is well-equipped but does not have all the people to operate the equipment. He noted that Remote Area Medical (RAM) has helped out the situation tremendously.
Addressing crime, Gajie said fortunately there is no serious crime. There is, however, petty crime. He said he would like to see more patrols and collaboration between the police and business community. Other residents say drug dealing use is invading the community and noted that the Takutu Bridge, once a favoured spot for relaxing is no longer because of the presence of drug dealers.
Gajie said the police also need more resources. At present, police at Lethem only have use of an ATV. "Every location should have a vehicle not only for crime but for emergency response," Gajie said, while noting that if there is an accident, there are not enough ambulances. As an example, he said in Lethem, there is only one ambulance and if it has to transport a patient to Boa Vista, there is none in Lethem for most of that day.
Another issue raised was that the court building was finished two years ago and is not yet in operation.
 Full of potential
Gajie said businesses are still under construction, people are still investing, there is a proliferation of housing construction, and the population is growing with persons from the Rupununi and the coast moving there.
If Lethem can move quickly towards the status of being a town and more emphasis is placed on the services provided by the local authorities, the proper design of drainage and other related infrastructure as well as support for the private sector from the government, the community would develop more rapidly, he added. He noted that businesspersons have invested $4 billion to $5 billion in the last decade in Lethem and the regional budget is not even $2 billion.
At the same time, residents believe businesses rarely help or give back to the community and they are the ones in positions that can see things change.
Gajie said Lethem is going to be one of the major commercial areas of Guyana, one of the major tourism destinations as well as one of the major agricultural areas of Guyana.
He said that they would like to see Lethem-Linden road being maintained twice a year – before and after the rainy season and a proper design developed for critical sections, such as the Hunt Oil section. As an example, he said, instead of using culverts, bridges should be built and this would not only ensure smoother travel but also ensure that the ecology is not affected.
He also said the road has improved recently but prior to that there was no proper maintenance for two years. He said since 2008/2009, the RCCI had recommended that an oversight or monitoring committee be formed which would include all the relevant government agencies and the chambers of commerce of Linden and Lethem.
"It was accepted by (former president Bharrat) Jagdeo but the authorities that were supposed to get that body going, never got it going," he said, while adding that from the private sector point of view, their services would have been provided on a voluntary basis and the committee could have prevented a lot of the destruction.
While for businesses issues such as infrastructure is critical, for many others, they are trying to survive. Standing in his yard with the picturesque Kanuku Mountains as his backdrop, as his newest of his five children wailed, Hernandez lamented that with the dry season in full swing and the well drying, despite the pipelines, he was not sure where he would get water when the well dries up.
Around the Web