Earl Jerome, said to be a convicted killer, is now a remanded prisoner after a city court heard that he choked a woman and threatened to kill her during a break-in and battered and wounded another woman who called him a murderer.
Jerome, 41, of 3671 North Ruimveldt, appeared before Magistrate Annette Singh at the Georgetown Magistrates' Courts on charges of breaking and entering with intent to commit a felony and assault.
Jerome was accused of breaking and entering the house of Gloria Peters on October 31, 2014 at North Ruimveldt. He was also accused of assaulting Jenny Henry on September 20, at North Ruimveldt Squatting Area.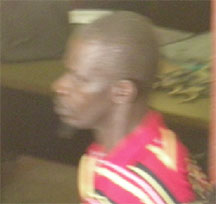 In relation to the break and enter charge, Prosecutor Adduni Inniss forcefully objected to bail, citing the seriousness of the offence. The prosecutor told the court that Jerome and Peters are known to each other. On the day in question, she said, Henry was at her home when Jerome broke and entered her property and proceeded to choke her and threatened to kill her. After the complainant began to scream, Jerome made good his escape, the prosecutor stated.
Inniss stated too that Jerome was once convicted for murder. However, the unrepresented man, who said he is a labourer, vehemently denied the prosecutor's information and he told the magistrate that he was never before convicted.
Inniss also mentioned the seriousness of the other charge, while noting that a medical certificate is before the court to verify the extent of the injuries Henry sustained. The court heard that Jerome and Henry are also known to each other and they live in the same area. Inniss said on the day of the alleged wounding, Henry was in her neighbour's yard when she referred to Jerome as a murderer, much to his annoyance. He then allegedly picked up a huge brick and threw it at Henry, hitting her to the ground. It is further alleged that he proceeded to punch her to her mouth, kicked her to her rib, and dealt her a stab to her right hand.
Magistrate Singh subsequently granted Jerome $75,000 bail on the wounding charge and the matter was adjourned to April 8, for the commencement of trial. He was, however, remanded to prison for the charge of break and enter with intent to commit a felony and the case will be called again on March 16 for the filing of statements.
Around the Web