With the aim of making passengers feel safer when travelling in taxis attached to the Tuschen Hire Car Service (THCS), drivers have decided to become more organized and properly attired. They are also the first group of taxi drivers to the join the United Minibus Union. Yesterday 14 of them turned out to work uniformly dressed in blue t-shirts with matching caps bearing the union's logo.
The vehicles also carry a sticker showing that they represent THCS. They have also taken the initiative to paint signs and markings on the road.
President of the THCS Sheik Mohamed said they are confident that passengers would be able to identify them easily and "feel more secure."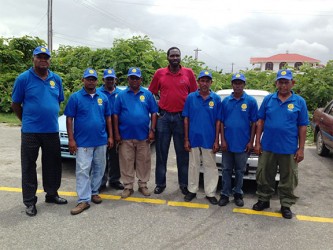 Speaking at the Tuschen Scheme Tarmac, he said the drivers are looking forward for representation from the union since they are facing a lot of difficulties. He pointed out that they load on a "turn system" and that a major concern is that private cars are "taking away our earnings."
The drivers told Stabroek News that although the police are aware of it nothing is being done to prevent it. "No one is assisting us to resolve this problem. When they [private drivers] see passengers they would shout 'taxi' but if they want to do that they have to go at a base," the drivers said.
They said the owners of the private cars claim the taxis work all day, while they start working from 6 pm, but in fact the private cars are "working from morning till night."
According to the drivers, the unscrupulous owners would "park on the road edge and get passengers faster and at times would go into the park and bully us."
They lamented that "when that happen we speak out for our right and they would threaten us and we believe that one day the threats would escalate…"
They claimed that some of the private drivers "smoke marijuana on the park during the nights and that is putting the lives of passengers at risk."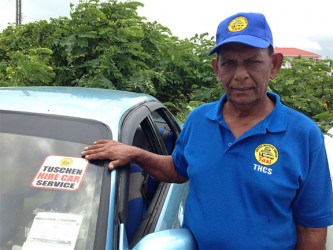 The drivers told this newspaper that they also have "internal problems" whereby other hire car drivers would "solicit passengers from buses and leave instead of waiting on their turn. That is not fair…"
Mohamed said that another issue affecting them is the vendors' stalls blocking the view and posing a hazard to road users. The tarmac was earmarked for a market and was also divided to accommodate the hire car park.
President of the United Minibus Union Eon Andrews was pleased that the THCS was the first taxi group to come on board and said it was a "disciplined branch."
He said getting the concerns of the drivers addressed "would involve the help of the police and stakeholders who are willing to work to upgrade the park and enhance the business."He noted that the drivers are making an effort to keep the park clean but it is "not easy competing with the semi market."
Andrews said the divers "embrace the market but the garbage needs to be disposed of at a central place."
He also spoke out against the stalls which were erected close to the roadside and said they were "never a part of the market."
He promised to "stand with the men under any circumstances. They are operating within the law and the authorities need to respect them."
He mentioned too that the new Traffic Chief Ian Amsterdam has made a "bold statement about zero tolerance for private hires and I hope that he sticks to his words."
Around the Web