The man who was found floating in a trench near the Square of the Revolution was yesterday identified as 54-year-old Sarju Gopaul, an alcoholic who would have convulsions after a drinking spree.
Gopaul, according to his son-in-law, Arafat Ally was also a heavy smoker. Ally concluded that the man had accidentally fallen into the trench after having one of the convulsions.
The man was discovered on Monday submerged in the water around 2 pm by a vagrant who alerted a group of high school students.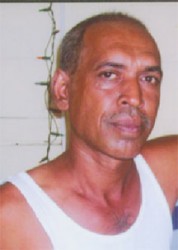 Three photographs were scattered next to a courier bag believed to have been the man's. An empty vodka bottle, a cell phone case and a key were also discovered. The body bore no visible marks of violence when checked.
Ally told Stabroek News yesterday that it was while watching the news on Monday, he saw the story about the body being found. From the footage shown he said, he recognized the plaid shirt and khaki pants that the body was clad in to be the same as the clothing Gopaul was wearing when he last saw him at his workplace on Sunday night.
He said that the father of three worked as a night security guard at a business place located on Vlissengen Road. He said that he would usually walk past the Square of the Revolution and through Cemetery Road to get to his home located in West Ruimveldt.
"He drinks a lot of alcohol and he has a lot of fits", he said, adding that he believes that he stopped at the moment for a smoke and got one of his attacks.
Ally said that when he last saw the man he appeared normal.
A post-mortem examination of the body is scheduled to be conducted today.
Around the Web