Not forming an alliance with APNU might have meant the death of the AFC, the party's leader Khemraj Ramjattan has said even as he emphasised that it was time to move beyond the history of the PNC.
"Not joining up might have been the death (of the AFC) because a lot of people might just have felt that you're not there for wanting to change…if I hadn't come out of that negotiations with something, I think that a lot of Afro-Guyanese would have felt that I was racial, that all I want is power…and it could have been a tremendous setback for my party. You could have had even the Afro-Guyanese leaders leaving it and so it could have been the death knell in another way," the AFC co-founder told Stabroek News in an interview on Sunday while disagreeing with those who said that the AFC allying itself with APNU was the death knell of the party. He questioned how long they are going to be haunted by the past of the PNC.
Ramjattan defended the alliance with APNU saying that the personnel in APNU are not the same who participated in rigging elections and it was time to move beyond the past for the greater development of Guyana. The PPP, he asserted, has done ten-fold wrong to the country.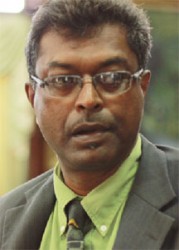 The AFC allying with APNU is in keeping with the fundamental principles of the party to foster change in Guyana and the move was fully supported by the membership, he said.
On February 14, following weeks of negotiations, APNU and the AFC signed an agreement – the Cummingsburg Accord – which has seen the two parties uniting under a single banner for the May 11 general elections. The coalition named APNU Leader David Granger as its presidential candidate and AFC's Moses Nagamootoo as the prime ministerial candidate. While there have been criticisms of the two parties coming together many believe that this is the best shot they have at defeating the PPP/C.
Make changes
Ramjattan said that the AFC's fundamental principle was to make changes in Guyana and they realized after two elections that there is a core set of support for both the PPP and PNC substantially in the Indo-Guyanese and Afro-Guyanese communities and the AFC's power to broker change by necessity means getting the percentage who support the AFC and engaging in a coalition or a grander alliance to make change. "So it is consistent with the model that we sought. It was difficult, probably it might take another 40 years…if we just continue being in opposition like that to win an election with 150 000, 160 000 votes," he said referring to the number with which the PPP won in the 2011 elections.
"So to break into that big percentage to gain a government by itself, AFC would have had to be thinking that the ethnicized politics, the polarized politics is going to be done (with) in a generation. I don't think so. In any event, these are the people's choices and we now, knowing that reality, had to make decisions as to how we run to ensure that changes come. And so notwithstanding that we have joined up with an APNU and a party that we had earlier called…one of the behemoths, we realized that in politics, to make changes sometimes you have to negotiate and enter arrangements with these politicians and that is what we did," Ramjattan explained.
"So to be intractable in not wanting to join up or form alliances with either the PPP or APNU would have been I believe, inconsistent with our fundamental principles. If we need to change Guyana by joining PPP or APNU we will do so. At this moment, we feel joining up with APNU is what's gonna bring the changes to Guyana. We cannot be a party that could broker another major party in opposition into power creating a new fused dynamic coalition to make some changes and allow that opportunity to go a-begging so that was some of the considerations," he added.
He added that there were other considerations and they have realized that such an alliance should have been done earlier and positions should not have been so inflexible. Another consideration was that the PPP is at its weakest. "It is very, very weak now organizationally and credibility-wise. This was the grand opportunity. They literally have destroyed themselves internally and so why not, when one is strategizing as to how to make changes, why not this opportunity, don't let it go a-begging again," he said.
Win for both sides
He said that the outcome of the negotiations was a win for both sides. "These were hard
negotiations. APNU wanted that 14, 15% to take them across the road for a majority government and so we had to negotiate as we did and we did I think create a win-win for both sides," he said while also noting that they ensured that safeguards are in place so there will not be any violations of the Accord.
Among the safeguards, he said is that the Leader of the List be an independent person and a civic member and this will ensure that the AFC gets the seats that it is guaranteed.
He also outlined that in the event that in the alliance government there is some problem that causes some violation of the Accord such as not setting up the Public Procurement Commission or corruption in the government, "you rest assured that Ramjattan will be the first by virtue of that 12 seats moving a motion of no-confidence against the APNU/Granger government that is breaking the Accord to the extent with the PPP's support." This is of tremendous deterring effect for misbehaviour and corruption, he said.
"I don't believe that that will happen, again, because of the quality of the character of David Granger and those around him," the AFC leader said while acknowledging that there will be disagreements but not to the extent of substantially breaking the Accord and knowing, after 22 years, the governance problems of this country and the need to fix these problems.
Another consideration is the international climate, Ramjattan said. "The big brothers around Guyana namely America, Britain, Canada, European Union, the CARICOM, they are not going to allow rigged elections like we had in the 60s and so on," he said while adding that he does not see such illegalities occurring though as a political leader with a special constituency, he had to put in those safeguards. In relation to any other conflicts, he said that in the Accord, there is a mechanism for mediation.
Leadership has changed
The AFC leader further argued that circumstances have changed and APNU's leadership has changed hence the agreement to join the alliance. He drew an analogy to enslavement by the British and interference in the country by the Americans in the past but now, those countries are partners with Guyana. "We cannot forever look into the rearview mirror whilst driving forward," Ramjattan asserted while stressing that circumstances have changed.
"I believe that there is an outlook in the new APNU…its largest component being PNC, that appreciates that what they did in the 1980s era and around that time, are haunting them today and they want to get it right and of course the new leadership with David Granger who as I said, I have engaged with over the last three years, has proven himself to be a person of some merit to engage even as a coalition," he said.
He added that the AFC might not have been able to do that earlier with APNU but given the evolution of time, it is convenient at this stage for that decision to be made among other factors. "Are you a patriot, are you non-racist, are you living up your multi-ethnic arrangements that you had as fundamental principles? Yes I think now is the opportune moment… and I really think that I am not wrong about that," he declared.
As it relates to an apology from the PNC or a statement expressing regret for its past misdeeds, Ramjattan said it would be nice if they apologise but he was not going to dwell on it and be enslaved by the past. "It would have been nice if they come out publicly and probably apologized at least the PNC's component. If they don't do it, well, I am not going to be bothered by that because then I've become enslaved by the history and would forever then put back PPP in government and they will continue with…their ten-fold scampishness and thuggery and corruption for another five years. What do we do in those circumstances," he questioned. "These are our political realities," he added.
Rigging
Ramjattan said that he has not made the matter a major issue knowing that Granger has made a statement that he was not part of any rigging. "We did give that thought serious consideration but there has been statements from the APNU leadership that I am well aware of that they were never part, this new body called APNU, they were never part of the rigging," he said.
The AFC leader acknowledged he knows that the PNC was part of rigging in Guyana but said that they must move on. "A party is an abstract thing, it's the personnel in the party and we have in the personnel of APNU now, not people that I know that have rigged elections. There might be remnants of them in their political party but in government that I have been dealing with as in the opposition, I don't see anybody there," he said.
Further, he said, the PPP has done a lot of wrongs as well. "What I see in front of me is a pack of wolves in the PPP who have done ten-fold wrongs to this country in my opinion by literally rigging elections in the sense of it being unfair when they dominate state media, when they dominate radio, when they use the public purse to go and give Amerindians especially all that items of whatever it is…to buy the vote, that's rigging of an elections too," he charged.
Ramjattan drew a parallel to the violence in an earlier period to suicides today. "That's violence, the violence is vicarious in a way, it's indirect but it is violence that this government are the authors of… because it is the disequilibrium in society that causes these suicides. It's the politics and economics of disaffection and disenchantment…" he said while adding that, very directly, corruption of the leading top members of society cause corruption in institutions such as the police force while narco-dealers can come and create violence.
The AFC has fully supported the alliance with APNU, Ramjattan emphasised. "There was absolutely no segment that had disagreed with going into an alliance with APNU," he said while recalling that when he had signaled the AFC's openness for an alliance at the party's conference in December, there was "lusty applause" and the majority wanted the AFC to lead such an alliance. "It was a unanimous decision that we enter an alliance to remove the PPP," he said while adding that a majority wanted the AFC to get the presidential candidate position but in negotiations, it was agreed that the Prime Minister be given more powers.
He said that before he signed off on the Accord, the party's executive as well as other representatives from the Regions met and the matter was thrown out to them. Almost everybody except one or two indicated their support and those wanted clarifications on safeguards and when these were made clear, "it was a go," Ramjattan said.
"I went to my national executive for endorsement of it and for all the people that were there, there were just two votes (against) and that was it," he said while adding that they have managed now to reassure those two executives and they are now fully on board.
As it relates to the resignation of the AFC's former General Secretary Sixtus Edwards, Ramjattan said that he got the impression that Edwards was one of those who did not want the AFC to move to the alliance. He felt that the AFC should retain its independent position, Ramjattan said while adding that the alliance received an endorsement from the majority of the party and that was his mandate.
He argued that to change the government of the day so that the country can have better governance requires joining up with a force that has the numbers and he has told his supporters that if they want to "change the thievery and corruption of the PPP," the AFC has to join up with APNU. He said that since 2011 there has been a debate in the AFC about this and at the last conference, the delegates understood the potential of joining with APNU.
At the national conference, the AFC made the preliminary argument that if they want to make changes in Guyana by virtue of getting the PPP removed, "the only method we can do is to ensure that we get the votes and when (we) did the numbers, we had to make the decision that we're gonna join up and that is why I then made the demand, our maximal/optimal demand that it must be that we get the presidential candidacy."
 Tremendous arguments
In the negotiations, he said, there were tremendous arguments on both sides in relation to the AFC leading the alliance. He said that when he had initially put the idea out of the AFC leading a pro-democracy alliance, he not only meant the presidential candidacy also that the AFC being the initiators, taking it up and dealing with civil society and they have done this. "So there was a shift but the shift came with the tremendous counterarguments that was put to us by APNU's team," he said while adding that they also ensured more powers for the Prime Minister when it was time to compromise on the presidential candidacy and this made the difference too.
He said that the AFC team had asked for and also indicated that their proposals for constitutional amendments included increasing the powers of the Prime Minister and APNU also indicated support for a similar amendment.
"In addition…you are dealing with a person here, David Granger, who over the three years I have come to learn to be an officer and a gentleman," Ramjattan said while adding that Granger was also a very close family type like him and is also a person who "I want to believe is going to be honourable to his word. He has done nothing over the past three years since I have really gotten to know him as opposition leader – and we have had a tremendous amount of engagements together – to give me the impression otherwise. So I decided why not because a three-way race will definitely mean a PPP plurality again," though with a smaller margin, he said.
"But that still puts them in a position to do as they've been doing, all the skullduggery, thievery and corruption and the necessity is that the demands at this stage that we make sure that they are out of government because if they're not our country will decline further, the decadence will dominate further and the PPP's monopoly over everything else will continue," he declared.
According to Ramjattan, the fact that the AFC will get 40% of the cabinet should the alliance win and 12 seats "win, lose or draw," was reassuring. He said that he felt that the AFC would have won 14 seats in a three-way race and "in this agreement, if we lose we got 12 seats. I thought that was a good deal. And if we win, we got 40% of the Cabinet, that's a good deal and a Prime Minister with more powers. How are we then on the losing end, I don't see that."
Around the Web