A post-mortem examination conducted on the body of bus conductor Travis Lowenfield on Monday revealed that he died as a result of haemorrhaging after he sustained a single gunshot wound.
Lowenfield, 27, of Plaisance Squatting Area, East Coast Demerara, was shot in the gut on Thursday and succumbed less than a day after at the Georgetown Public Hospital (GPH). His relatives had said he had lost lots of blood and doctors told them that his body was rejecting a transfusion.
The dead man's mother, Allison Lowenfield, told Stabroek News on Monday that her son's death was a sudden shock to her and her entire family. The woman added that his killer is still at large and noted that two persons who were held by police were released on Saturday.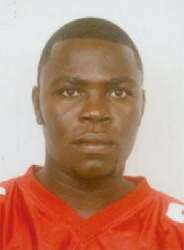 Lowenfield's sister, Anastacia Roberts, had told this newspaper that on the day of the shooting last Thursday, her brother and a few of his friends were liming at his house and they were making jokes, which was customary. She was told that one of the friends told Lowenfield, "Give me the money! Give me the money you got in you pocket!" He refused and one of the other men, she learned, accidentally pulled the trigger of a gun that was pointed at her brother. Roberts added that the money was removed from her brother's pocket, after which his friends departed the house. She said it was moments after that Lowenfield, who was left alone in the house, called on his neighbour, Junior Robertson, who rushed to render assistance and took him to the hospital.
He will be laid to rest on Friday.
Around the Web