Two persons are in custody in connection with the murder of Ryan Sooklall, who was shot and killed at Providence on Sunday, and his sister said yesterday that he was threatened on the very day he met his end by a woman who was accompanied by police.
Amanda Sooklall told Stabroek News that a woman from Bagotstown went to Sooklall's residence with police officers and told a relative that Sooklall would be dead before the day is out.
However, Badrinauth Sooklall, Ryan's father, said he is unaware of anyone visiting their home to make threats because everyone was at the creek on that day. A resident from Providence said the police officers that visited Sooklall's home are attached to the Providence Police Station.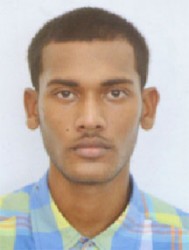 When Stabroek News contacted the police station, the officers on duty were tight-lipped on what occurred on Sunday. However, 'A' Division Commander Clifton Hicken said two people are in custody assisting with the investigations.
Sooklall, 19, was shot on Sunday, in what is believed to be an act of retaliation, while he was drinking with a friend at a shop at Parker Street, Providence. He was laid to rest yesterday.
According to police, a man armed with a firearm approached and discharged several rounds at Sooklall before escaping on a bicycle. Sooklall was hit to the back, said police, who added that the wounded youth was later pronounced dead on arrival at the Diamond Diagnostic Centre.
A witness, who asked not to be identified, said she saw a boy on a black bicycle approach Sooklall. She said the shooter just fired off his gun without uttering a word.
The witness described Sooklall as a very respectable young man but noted that when she made the report to the Providence Police Station, she overheard that he had been implicated by his suspected assailant in a previous attack.
"[The shooter] made a report and said that Ryan and others threw [a] channa bomb at his house and fire rounds," the woman said. She added that the police had even gone to Sooklall's home looking for him earlier in the day. She said the shooter warned the police they had better find Sooklall before he did.
Meanwhile, Sooklall's mother, Shanaz Ali, said her son was an "alright boy," who used to help her out in the shop. "Boys must lime, boys must got friend but is the company he kept," Ali lamented.
Around the Web