Under the slogan "It is time," the APNU+AFC alliance yesterday launched their campaign for the May 11 general elections and promised a new day for Guyana, unity, and a change in the local political culture while assuring that the alliance is not a short-term, office-sharing bargain.
"We have come together because the nation is at breaking point. Guyanese have been fatigued by…two decades of fickle promises, of fatuous platitudes and failed projects," the alliance's Presidential Candidate David Granger told a packed Savannah Suite at the Pegasus Hotel yesterday. "The APNU-AFC coalition is the boldest step taken in six decades of our political history, a step to replace political hostility with unity, to replace confrontation with cooperation, to replace dictatorship with democracy. APNU/AFC coalition has chosen hope over despair and faith over fear," he said to applause.
Against the backdrop of the green and gold colours of the APNU and AFC draped on the wall, the alliance's Prime Ministerial candidate Moses Nagamootoo said that it is time that meaning is given to the sacrifices and struggles of Guyanese including those of generations past. "Today, there is need for a new wave in our democracy, to inject life into our decaying political system, and to transform our governance by ending "winner-takes-all-politics", by taking Guyana along the road to multi-party, multi-ethnic, national rule," he asserted. "The APNU+AFC alliance is that new beginning in our quest for an inclusive democracy, not only of political parties but civil society as well," he said.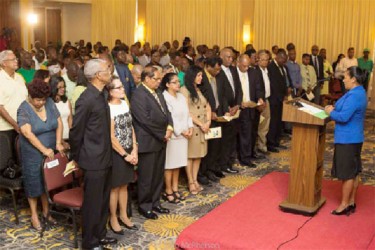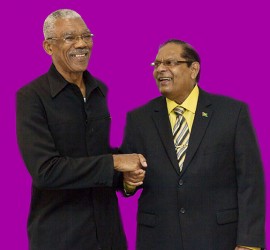 The AFC executive threw his support behind Granger, who is the leader of APNU. "Whilst we will contest this election on issues not personalities, I have no doubt in my mind that the APNU+AFC alliance will be victorious and that David Granger will be Guyana's next President. I have every reason to feel that as President, David will be just and fair, and that he will put Guyana first, that he would help to restore our beloved country to the place of respect and dignity in the Caribbean and in the rest of the world," Nagamootoo said.
On February 14, following weeks of negotiations, APNU and the AFC signed an agreement – the Cummingsburg Accord – which has seen the two parties uniting under a single banner for the May 11 general elections. The coalition named Granger as its presidential candidate and Nagamootoo as the prime ministerial candidate. While there have been criticisms of the two parties coming together many believe that this is the best shot they have at defeating the PPP/C. The PPP/C slate is headed by President Donald Ramotar with Elisabeth Harper as his running mate.
Yesterday's launch saw the presence of a wide cross-section of party supporters as well as representatives of sections of civil society. In the packed room – some persons had to stand as there were no more seats- attendees heard messages from the six parties that make up the alliance. In a surprise, the chair of the proceedings was parliamentarian Dawn Hastings from Region Seven who, after a shaky start, quickly grooved into her role, even at one point speaking in her native Akawaio which drew applause.
Drummers
Granger and Nagamootoo entered the Savannah Suite accompanied by African and Indian drummers. Unlike other occasions, the presidential candidate was without one of his trademark green shirts and was dressed in a dark suit and both he and Nagamootoo wore lapel pins depicting the Guyana flag.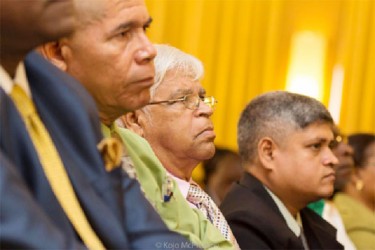 "I am grateful to the representatives of A Partnership for National Unity and the Alliance for Change for toiling for several weeks to hammer out the Cummingsburg Accord and for selecting me as their Presidential Candidate," Granger said to loud applause. "We shall together lead the majority of citizens who struggle daily against disunity and against a dictatorial government and who seek a good life in the land of their birth," he said.
Casting his speech around a theme of national unity, the alliance's presidential candidate said that the overwhelming majority of Guyanese want to improve their quality of life and to remove the "oppressive, undemocratic and anti-working class" PPP/C administration from office. "Our singular mission is one of service, is one of solidarity and is one of national salvation," he asserted.
"We wrestle against a presidency that has damaged our Republic by the denial of democracy. We wrestle against a presidency which for the last seven months, paralysed the Parliament by the promulgation of an obnoxious prorogation order. We wrestle against a party which, for eighteen years, has prevented the holding of local government elections. We wrestle against the PPP that, daily, is inflicting damage on our university, our teachers' training college, our schools; we wrestle against a party that is failing our young people and driving talented citizens to migrate to other countries. We wrestle against crime, against corruption and against cronyism," Granger declared.
"…we wrestle not against flesh and blood but against principalities and power, against the rulers of the darkness of the world, against spiritual wickedness in high places…" he quoted from the Bible as persons repeated "in high places" and shouted "yes" and applauded.
"Our young people demand jobs, not jails, not drop-in centres…our women and children demand safe homes not safe-houses…our fishermen and miners demand protection from pirates and bandits, our paddy farmers and businessmen demand fairness, and our hinterland regions demand development not gifts, not goodies, not grants," Granger said. He pointed to the rates of murders, robberies, road fatalities, suicides, illiteracy, unemployment, trafficking in persons and trafficking in narcotics which he said has made Guyana into a pariah state in this hemisphere.
"Happy people do not kill themselves; happy people do not kill their wives, happy people do not kill one another. Guyana is an unhappy country," he said.
The PPP, Granger charged, has divided the nation. "It offers favours to its favourites but it inflicts unbearable burdens on the masses of housewives, public servants, working people, paddy farmers, fisherfolk and students," he declared.
The APNU-AFC presidential candidate said that his government of national unity will serve all. He pledged that the alliance will deliver an education system that will produce citizens of quality who will be happy to remain here to build the country; employment opportunities in science, technology, engineering, mining, agro-processing and the arts to provide jobs and promote economic growth; and an empowerment policy that regularly renews local democracy by ensuring that local government elections are held every 36 months – as stipulated by the Constitution – so that villages, towns and neighbourhoods are well-governed.
Energy policy
Further, he pledged an energy policy that would provide cheap, renewable electricity to all Guyanese; an enterprise and economic development policy that provides a level playing field for local entrepreneurs and foreign investments including the diaspora to enable them to develop Guyana's resources; a social, cultural policy that will harness and develop the creative energies of Guyanese; an information and communications technology policy that will extend access to the information superhighway and support the development of the country; as well as a security policy that safeguards citizens and Guyana's territory.
Granger asserted that the alliance will not allow the PPP to squander the inheritance of Guyanese. "We assure you today that the 'Cummingsburg Accord' is not a crass, short-term, office-sharing bargain. It is a visionary initiative," he declared.
"It will ensure a real government of national unity, not a bogus civic alliance, it will ensure that our multi-ethnic, multicultural society provides a place for all citizens to prosper, it will ensure that all Guyanese – regardless of their gender, geographic location, class, creed or ethnic origin – enjoy a good life, it will ensure the creation of an environment that is free, free from the ravages of poverty and discrimination, and from the scourge of criminal violence, epidemic disease and ignorance; and it will ensure that information, communications technology are extended to all the corners of our country," he pledged.
"The 'Cummingsburg Accord' therefore, is actually a public Covenant. It is a social contract, a contract between the combined majority in APNU and AFC and the people of this country to create a just society, a stable political environment with a prosperous economy. Our covenant is a commitment to change the political culture of this country and to change the way we see ourselves and we see each other. It is a fresh, new way of looking at this great land that God has given us," Granger said.
He said that the PPP administration is deaf to the cries of Guyanese who have endured over 22 years of corruption and incompetence. "We have experienced the erosion of our quality of life, the corrosion of our values and institutions, particularly the most prized institution, our National Assembly where the representatives of the majority of people should be debating the destiny of this country," Granger said.
"We have witnessed how political empowerment at the national, regional and local levels has been damaged; how the environment has been mutilated; how individual equality for the young and social protection for the aged have been diminished. We have witnessed how public health care and human safety have been degraded," he declared.
Calling the alliance a national movement, the alliance's presidential candidate said "We are fed up with its winner-takes-all strategy, we are fed up with the PPP holding on to power at any cost, we are fed-up with the PPP's divide-and-rule tactics that foment hatred and foster hostility, we are fed up of the one-size-fits-all village policy that impoverishes our countryside and hinterland," Granger declared.
He said that the alliance will adopt a unified approach and bring an end to cronyism, crime and corruption. "We will bring an end to constitutional abuse by the President, by his Cabinet and by the executive branch of government. The APNU/AFC coalition will change Guyana forever," he asserted.
Committed campaigner
He praised Nagamootoo as "a committed campaigner who cares about the conditions under which ordinary people live and work." Granger noted the cooperation between the APNU and AFC over the last three years in the National Assembly and said that the collaboration is not new and they shall continue to work together for the good of Guyanese.
Nagamootoo, who made his 'unity call' before Granger said that another giant step is being made towards national reconciliation. "Since 1955, a single occurrence called "the split" had wounded our Guyanese civilization. It occasioned political and ethnic division. But today, today – after 60 years – we are taking a conscious step to put the healing balm to the scars of that division. Today, we hold out a new promise of addressing the legacy of ethnic insecurity in Guyana," he said.
"The restoration of electoral democracy in 1992 started a hopeful process but it did not bring healing. After a few years, it saw a new cycle of autocratic, one-party rule. The promise of 1992 faded, then became distorted in a frenzy of sleaze, corruption and complicity in criminal enterprises. The gang of betrayers derailed our democracy," he declared.
According to Nagamootoo, by 2011, Guyanese condemned the "pseudo-leaders" to minority status and though they tried to duck and dodge, eventually buckled under pressure with the upcoming premature elections being the "final, desperate refuge of a cowardly, minority regime."
It will be a bumpy road to the Promised Land, he said. "But we will not be daunted. We will not be intimidated. We shall defeat the monster of racism. We shall overcome the campaign of fear," the alliance's prime ministerial candidate assured. "Today, we have unity within our grasp. So there is nothing to fear; there is nothing to lose," he said.
Nagamootoo said that over the 54 years of his life in the political arena, he has worked for the day when a broad coalition could be possible. "Today, the APNU+AFC Team Unity have achieved not only a political union but have outlined plans and programmes for investment, growth and development of a new Guyana," he said. "Today, we are seeing an alignment of brilliant stars from all of the parties that have come together. And I believe that destiny has brought us here on a single platform, for a single purpose," he said while adding that there is no doubt that Granger will be the next president of Guyana.
"As we prepare to take office, we note how utterly depraved this government has become by shamelessly misusing public funds. One area will suffice, our children, like little Red Riding Hood, are given a modern-day glimpse of the big bad wolves with new, brighter but bigger teeth, the better to laugh at our people's pains and miseries," Nagamootoo declared.
The Alliance has said 'it is enough,' he asserted. "There will be and must be a stop to this madness. A new day must come and it will come, in the words of our national poet Martin Carter, "inevitably and inexorably" that new day will come, Nagamootoo said while invoking also the lyrics of Bob Marley's 'One Love' which immediately filled the room and saw the attendees getting up, swaying and singing "let's get together and feel all right."
Around the Web