ExxonMobil's approximately US$200M oil exploration project is to kick off today as the Deep Water Champion rig is in position at the offshore Stabroek Block.
GINA said that President Donald Ramotar along with Minister of Natural Resources and the Environment, Robert Persaud visited the ExxonMobil's Head office located on New Market Street, Georgetown yesterday and were given a tour and briefed on its operations by the company's Country Manager, Jeff Simons.
The total area allotted to Exxon for exploration covers 26, 806 square kilometres and GINA said that the company intends to drill at a depth of 1750 metres.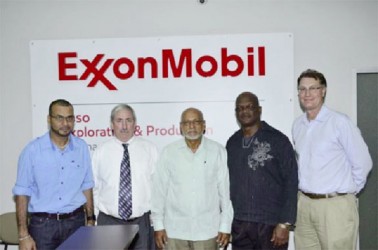 GINA said that the operations include a drillship, with approximately 200 crew and contractors; helicopter support, with two from Ogle including a utility and a Search and Rescue at all times; four support vessels and two shore bases running from Georgetown and Trinidad. There is also a waste treatment facility at the John Fernandes Site at Houston.
GINA said that President Ramotar was impressed with the size of the company's operation and described the exploratory area as a "small village".
Minister of Natural Resources and the Environment, Robert Persaud urged the company to ensure that the activities envisioned are within the specified timeframe. He also stated that, "all government agencies are fully mobilised for an efficient and effective exploration".
On Saturday, Venezuelan Foreign Minister Delcy Rodriguez wrote to the country manager of the Guyana operations objecting to the proposed drilling off the Demerara coast. This protest has been ignored by Exxon.
The Government of Guyana has since issued a Note Verbale to the Venezuelan Foreign Ministry urging it to desist from any actions to stymie Guyana's development. Guyana has also advised the United Nations, CARICOM, UNASUR, the OAS and the Commonwealth about Venezuela's actions.
Around the Web