Referring to Jarvis Small and Bibi Sharima-Gopaul as "cold-blooded killers", State Counsel Diana Kaulesar in her impassioned closing arguments yesterday presented to the jury, reasons why they should be found guilty of the murder of 16-year-old Neesa Gopaul.
Small called 'Barry' and Sharima-Gopaul, the mother of the murdered teen, are on trial before Justice Navindra Singh and a 12-member jury, before whom Kaulesar refuted the defence's contention that the prosecution had no evidence against the accused to secure a conviction.
Seemingly overcome by emotions, a visibly distressed Sharima-Gopaul, sat tearfully mumbling something to herself, beside her calm, composed and expressionless co-accused as Kaulesar addressed the jury in a silent courtroom packed to capacity. "It is a sad thing for a parent to have to bury a child," she began, but it is, "quite another thing when you have a mother who would join with her lover to cold-bloodedly murder and dispose of her own child. But there is a saying that what is done in the darkness, must come to light."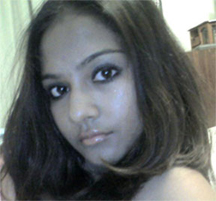 Acknowledging that the state's case is circumstantial, the state counsel reminded the jurors that they will be directed by the judge as to how to treat with circumstantial evidence.
She explained that circumstantial evidence is evidence nonetheless, on which a jury can convict and that examining the case as a whole, the many coincidences which the defence has opted to overlook, must be viewed in tandem with the circumstances which amount to such evidence.
Making reference to Small's unsworn testimony in his own defence on Monday, the prosecutor begged the jury not to buy or believe a bit of it. "He [Small] wants you [the jury] to believe that he's this good Christian man, with a feeble voice who explained that he would do no harm," Kaulesar said.
"He tried to tell us in this sad voice that he wants the police to catch Neesa's real killers, but the police have already done that. It's he and Bibi who are the real killers, ladies and gentlemen of the jury."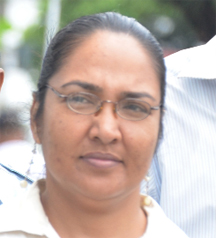 State counsel surmised that Small was attempting to get the better of the jurors' emotions by relating his story to them in a low tone, so that they would think, "he's not someone who would bash in anyone's head. Do not believe him, he's looking for sympathy," Kaulesar exclaimed, adding, "duh is wah yuh does call eye pass."
The prosecutor told the jurors that Small's talk of growing to love Neesa and her little sister Merriam like daughters and that he would not have caused harm to Neesa, was a lie which he used to distract them and they should believe not a bit of it.   Looking across at Small, a gym instructor, the prosecutor questioned rhetorically, "You think this strong man talks so softly?" Kaulesar contended that it was all a farce.
Small had told the court on Monday, "I did not kill Neesa Gopaul, nor did I play any part in killing her." He had said that he is a Christian man and he "would like the police to find the real killers, and let them pay for what they did to Neesa."
Meanwhile, addressing the defence's contention that Small never said he knew who killed Neesa, but rather he thinks he knows who would want to kill the girl, Kaulesar argued that the aim was "to turn the entire story around. He [Small] knows that if he says he knows who killed Neesa, it implicates him."
Several police witnesses, including Detective Assistant Superintendent Mitchell Ceasar and Superintendent of Police Hugh Jessemy had testified that Small had told them during an interview that he did not murder the teen but knew who did and that if he were to reveal that information, the investigation would turn in the "correct direction."
State counsel said that when Small claimed that he had ended the relationship with Sharima-Gopaul that too was a fib. Counsel recalled witnesses, including Ashram Tiwari who had testified seeing the two together even after the date of their "so-called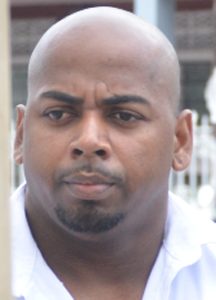 break-up."
Tiwari, a taxi driver and friend of Small, had testified about going to Sharima-Gopaul's home on a number of occasions to collect Small even after they two said that their relationship was severed. The taxi driver had said in his evidence-in-chief, that whenever he had to collect Small, he would have to ask whether the man was at his house, or Sharima-Gopaul's.
The police found the two accused at a hotel in Parika before their arrest, Kaulesar said and this also substantiates that they had not severed their relationship. She argued that them being there was no accident, and that they had agreed to meet each other there. She asked the jurors to recall the testimonies of police witnesses who had recounted going to the hotel and banging on the door for at least 10 minutes before the accused decided to open. The jury was reminded to take into consideration also that the two had not been fully dressed when the cops descended on them.
 Towel at the door
In her unsworn statement on Monday, Sharima-Gopaul had said she was afraid of Small and that that was the reason she had withdrawn an assault allegation she had made against him.
The woman had testified that a door to her bedroom in which she and her daughters slept could not be properly locked and she used a towel to keep it closed, since there was a functioning air conditioning unit inside. She had also stated that Small had keys to her house.
However, Kaulesar questioned the merit of the defendant's fear. "Ladies and gentlemen of the jury, if she was so afraid of big, strong Barry, she would not put a towel at her door, she would put bolts and change the locks, but they were both in this all along," the prosecutor said.
The defence had bashed the police for conducting inadequate investigations, citing that they failed to interview persons in the area where the body was found to ascertain if they had seen a vehicle. Defence counsel also questioned why the police did not search the accused's vehicles for sand which may have been transferred from where the body was discovered at the Emerald Tower Resort.
The prosecutor argued that if she had produced witnesses who may have so testified; it would have been the very defence lawyers who would have questioned, "what kind of vehicle was it, what colour was it, what was the registration number, who was driving it and so on."
State counsel posited also that the defence would have advanced that Guyana "has so much sand and that it could have come from anywhere in the country."
Addressing the defence's stance of not knowing whether Neesa was indeed dead, the prosecutor asked the jury to remember the testimony of Forensic Analyst Lorrain Alleyne who had said that DNA tests proved that the body was Neesa Gopaul's.
Alleyne, of the Barbados Forensic Sciences Centre had testified that there was a 99.98% match in the biological samples which police said they extracted from the body suspected to be Neesa and from her mother Sharima-Gopaul. Alleyne had explained that a probability of a 100% match is not what would usually obtain, while adding that it is not impossible. She explained that to have a reading of 100%, all the DNA in a person's body would have to be analyzed which could take years.
The analyst had however pointed out that if there is no match in the samples, the reading would be 100% no-match, but once there is a match, it is read as 99.98%, "which is
considered to be scientifically sound."
 White sheet
Kaulesar noted that Sharima-Gopaul's profession was given as a "poor housewife" but when she testified she said she was a seamstress. The prosecutor said the reason the accused conveniently became a seamstress was to distract the jury. This distraction, counsel argued, was for the woman to say that the "readymade" sheet in which her daughter's body was found wrapped, did not belong to her since she sewed all of her sheets, pillowcases, curtains and clothing.
To wrap her daughter's body, state counsel deduced, "she used what she had and did what she had to do."
Kaulesar questioned whether the fact that Sharima-Gopaul is a practising Muslim may have been the reason her daughter's body was wrapped in a white sheet and found with a Muslim gown. "Was there some sort of an attempt to give her a burial of some sort," she questioned.
Addressing the defence's disbelief in Simone Diane De Nobrega testimony as told to her by her former cellmate Sharima-Gopaul with regard to how her daughter met her end, the prosecutor said the question to be asked is how would De Nobrega have known such a story had it not been related by someone familiar with what exactly transpired.
De Nobrega's testimony was that Sharima -Gopaul had confided that it was not she, but Small, who murdered her daughter by bashing her head in with a piece of wood.
The accused had said that at no time did she ever have a discussion with De Nobrega in which she made any confession.
But State counsel questioned how De Nobrega would have known that Sharima-Gopaul's husband had died. De Nobrega had testified that her former cellmate had told her that on Small's instruction, she had fed her husband rat poison to kill him, so that they could be together.
The defence had contended that De Nobrega could have learnt of the death of the woman's husband via the press, but the prosecutor disputed this. Questioning why the defence never produced the newspaper in which they claim the publication had been made, she maintained, "There was never any such publication; and that is why they could not produce it."
The prosecutor said too that the accused never protected her daughter as she wanted the jury to believe, since she saw her as competition. De Nobrega had told the court that her former cellmate had said that "Barry" seemed interested in Neesa and that she had found them in a compromising position.
 US visa
The witness had also said the accused had told her, that Small said Neesa wanted what she had, which was him. De Nobrega had said too that the woman told her that whenever Neesa was around, Small treated her badly, but when the teen was not there, he was "a total sweetheart."
Sharima-Gopaul had testified that if she wanted to leave the country after her daughter went missing, she could have since she had a valid US visa at the time. The prosecutor however opined that this was another distraction. Kaulesar said the accused knew that if she had left the jurisdiction, the police would have become suspicious.
The prosecutor said Sharima-Gopaul's story of never withdrawing her daughter's rape allegation against Small was also a lie; and was substantiated by police witnesses who testified that the charge was withdrawn. Sharima-Gopaul had told the court that the only charge she had withdrawn by affidavit, was that of Small physically assaulting her. She said she had done this, because she was afraid after he told her that if she did not withdraw the charge, he "would take Neesa out of the picture."
State counsel said that after Small sounded this threat, the woman withdrew both allegations, without the young girl knowing.
Kaulesar said this establishes that both accused had motive for killing the young girl who wanted the rape charge to be taken before the courts. She said orders had been given for Small to be arrested, but after the withdrawal, no charges had been laid and not long after, Neesa was discovered dead.
Sharima-Gopaul had testified that her daughter had told her that she had lied about the rape allegation and that was the reason she did not follow through; state counsel begged the jury to dismiss those claims, as they have no merit.
De Nobrega had testified that Sharima-Gopaul had confided that Neesa had overheard her telling someone she had poisoned her father. According to De Nobrega, Sharima-Gopaul told her Small said that because of what the teen had overheard, she could cause trouble for both of them and that they needed to get rid of her.
These sequences of events, the prosecutor argued, imputed motive to the two accused and leads to circumstantial evidence.
While the defence argued that the state had no evidence against the accused at the time they were arrested, the prosecutor categorically stated that the police do not need evidence to effect a charge, but can so do if they have reasonable suspicion.
She advanced that in examining the case as a whole and all its circumstances, it amounts to reasonable suspicion.
In her more than two hours address to the jury, Kaulesar said that the life of a "bright young woman with her entire future ahead of her, was snuffed out by the two of them," pointing at the accused. Counsel stated that it was only a "heartless" mother who would stand by and watch her daughter being murdered.
Kaulesar asked the jury to find both the accused guilty of the "cold-blooded" murder of Neesa. "Hold them responsible for this atrocious act."
The trial continues this morning at 9 when Justice Singh will sum-up the case and give directions to the jury.
Small is represented by a team of four attorneys: Lyndon Amsterdam, Glenn Hanoman, Bernard De Santos SC, and Zanna Frank, while Sharima-Gopaul is represented by attorney George Thomas.
Around the Web