After stepping down as the Chairman of Blue CAPS, the social change organisation, businessman Clinton Urling is mulling a future in politics.
He told Stabroek News yesterday that nothing was set in stone as yet. He said that when the political parties begin to campaign and reveal their platforms it was entirely possible that he may join or endorse one of the two major groups.
Urling said that should he not be satisfied with the political platforms and there were sufficient rumblings he was open to forming his own political party.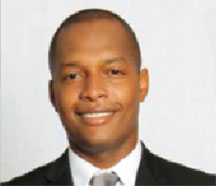 He said in much the same way Blue CAPS galvanized people through the various leadership seminars and public outreach programmes, a new party could do the same providing fresh ideas and strategies.
He noted that for now he had no political ambitions but being a pragmatic person it was entirely possible for things to change very quickly.
Urling said that he was currently focusing on his business ventures as well as his work with the Georgetown Chamber of Commerce and Industry and Blue CAPS, although he is no longer on the executive.On Wednesday the organisation announced that Michael Leonard was the new Chairman following Urling's resignation. Alfonso De Armas was elected as the new Vice-Chair, the post that was previously held by the new Chairman.
Urling noted that stepping down from the organisation he founded was needed to keep the initiative moving and bring new persons to the forefront.
Around the Web