PERTH, Australia, CMC- Chairman of selectors Clive Lloyd says West Indies are desperately missing the spin heroics of game changer Sunil Narine to strengthen their campaign in the ICC World Cup currently underway in New Zealand and Australia.
Offspinner Narine withdrew just before the squad left the region for the World Cup claiming he was not fully confident in his revised bowling method after his action was reported as suspect in India last September.
West Indies have lost two matches and won two with two more games to play in the preliminary phase as they attempt to secure a spot in the quarter final stage of the World Cup.
"Sunil (Narine) is one of the best one day bowlers in the world and with him not here he is sorely missed. Look at the scores we have been posting. Three hundred runs pretty consistently. If he was here, people won't be able to chase that down," declared Lloyd, a former West Indies cricket captain.
"We miss him. We miss his wicket taking ability, his economy rate and the fact that he is a game changer. All of these are reasons why we miss Sunil. But he is not here, so we have to do without him".
Narine has rehabilitated himself, and preliminary tests showed he was bowling legally when he was picked by West Indies for the World Cup.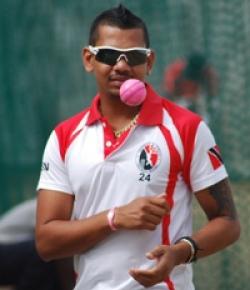 However a WICB statement had said that he needed more time to be able to confidently bowl for a sustained period in international cricket with his new action.
"It is obvious they (officials) thought he was throwing, but he has rectified that. He played for T&T and did quite well,"said Lloyd in an interview with the Express.
"His action has been passed, so I don't see the issue anymore".
Narine recently helped Trinidad and Tobago win the West Indies regional one-day title with remarkable figures of 8-3-9-6.
His withdrawal was a blow to West Indies, as he was ranked No. 2 in the one-day international bowling ranking when he was suspended in September.
"I have tried to get through to his agent and was unsuccessful," said Lloyd.
"But he (Narine) has promised me that he wants to play Test cricket and one-dayers for the West Indies, so I am hoping he will make himself available for the England Series…I hope!"
Around the Web