DNA testing has confirmed that the decapitated corpse found at Cummings Lodge last year is that of missing businessman Mohamed Khan, the former owner of MFK Trading.
It was ranks from the Leonora Police Station who delivered the news to Khan's mother at her West Coast Demerara home yesterday and they gave all assurances that they will now vigorously investigate Khan's death.
A grief stricken Khairool Neisha Khan told Stabroek News that two policemen visited and told her that it was confirmed that the body was that of her son. "They said that they came back with the results and it proved that it was him".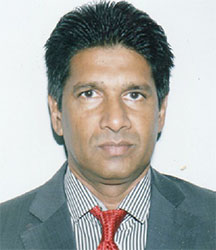 In early December last year, police sent samples of the decomposing body found three months earlier to a lab in Trinidad for testing. Relatives said that based on items found on the body they were convinced that it was Khan.
Contacted earlier yesterday, Crime Chief Leslie James told this newspaper that a rank had gone to the Caribbean island to uplift the results and very soon it would be made available.
Khairool stated that "all the time I know is my son. I saw the picture of the body and my feeling told me that it was him". She recalled that she was having strange dreams which also convinced her that the body was indeed that of Khan.
Khan was last heard from on August 21 last and he was reported missing last October. He had travelled from his home in Venezuela where he lived with his wife and their children to meet with his attorney and to look after some business in the interior.
On September 22, a decapitated corpse was found at Cummings Lodge, East Coast Demerara. The corpse was also missing one leg from the knee down and a foot from the other leg was apparently severed at the ankle. The head which was in a plastic bag was found nearby.
It was Khan's wife who positively identified a belt and pants found on the corpse as being her husband's property. A mark was also found in the stomach area of the corpse and it was believed to be from a gunshot wound Khan sustained during a failed execution attempt months earlier. The pathologist could not confirm if the mark was a gunshot wound, given the decomposition of the body. The cause of death was inconclusive.
Khan's mother told Stabroek News that the ranks told her that she could claim possession of the body whenever she wanted. The woman expressed a desire to do so sometimes next week with a view of giving Khan his last rites by next Friday.
Amidst bouts of emotion she thanked all the policemen who assisted in the matter, noting that "they did their job well".
Following his disappearance, relatives and close associates had pointed fingers at a businessman who they said owed Khan some $80 million. Khairool yesterday said that she is certain that this businessman is responsible for her son's death. She noted that he had even threatened her and made threats to the lives of Khan's two daughters who reside in Guyana.
According to Khairool, she worked hard to raise Khan and her other six children. She described Khan as the hard working one who was not ashamed to walk the streets and sell items.
Around the Web