Former Precision Wood-working Limited employees yesterday continued a protest in front of Republic Bank on Camp Street, demanding money owed to them after the furniture company closed and workers were laid off.
The protestors marched outside of the bank building with placards in their hands, chanting that they wanted their money and that the Commercial Court should speed up its handling of a related litigation.
In 2009, over 140 employees were laid off after the once-thriving furniture company was hit hard by the global financial crisis and was forced to shut down. The bank then took possession of the business.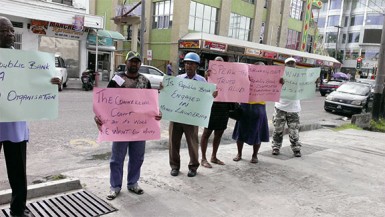 Eustace Marshal, one of the ex-employees leading the protest, stated that they were informed by way of a letter that the company was not in a position to pay them their entire severance package and could only give 40%.
He stated that the letter indicated that Republic Bank would pay the remainder of the monies but to this date nothing was done.
Since then, he said, he was in constant contact with the directors trying to establish when the monies would be handed over to them but he was told that the matter was engaging the attention of the Commercial Court and at the completion they would be paid their monies.
Stabroek News was unable to make contact with bank officials yesterday despite many efforts.
The protesters complained that the bank had appointed a receiver and invited tenders for the sale of company's property but they were still not receiving their money.
"We are not getting our severance pay, we have heard nothing about it," one protester said, adding that they were informed that only former workers who took the company to court were being given their money.
"Not all of us have money to get a lawyer," another protester stated, while highlighting that they were willing to protest until they receive their money.
"We are hoping that somebody "in the know" would tell us what our position is because we have been told that the directors have been gagged," one of them stated, calling the action of the bank a "conniving act."
"The bank hasn't been responding to us so we are going to protest. We haven't gotten our money and we want to know what is going on. We want our money!"
Precision Woodworking Limited was founded in Guyana in 1983 to manufacture and export high quality furniture for the European Market.
Around the Web