Former APNU Parliamentarian Africo Selman has listed constant verbal abuse by Chief Whip Amna Ally as a main reason for parting ways with the coalition but Ally has vehemently denied this, saying she is shocked by the allegation from someone who once called her a "role model."
Speaking to Stabroek News yesterday, Selman, who served in Parliament for eight years first as a PNCR-1G representative and then as part of A Partnership for National Unity (APNU), said she had enough of the abuse and lack of unity in the partnership and decided to exit.
"I have served my time with the PNC and I am done with them," she said yesterday and declared that she would not be voting for the coalition come May 11th. She alleged that motions and questions she had submitted in the last Parliament were never even acknowledged and for her that was "intellectual abuse."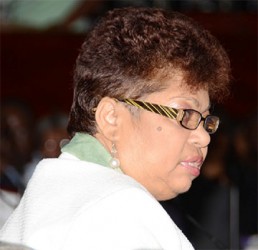 However, she said it was Ally's attitude which was the deciding factor and since last December, when the last abuse occurred, she had decided that she would have no more. However, it is not clear why she waited until two days before President Donald Ramotar dissolved Parliament on February 28th this year to submit her resignation.
Asked if she has intentions of joining the ruling PPP/C, Selman said no but later added that "anything is possible." Asked what has changed with the PPP/C, whose positions and policies she would have been fighting against for the past eight years, Selman said nothing had altered. However, after some hesitation, she said President Ramotar's prorogation of the National Assembly was something she supported. She said the President "stretched out his hand to the opposition to talk," and for her that was a good sign.
'I never abused'
"I know nothing about what Miss Selman is saying. I never abused Miss Selman. If Miss Selman wants to go to the PPP, let her go," Ally said, when contacted by this newspaper yesterday for comment.
Saying that she was shocked by the allegation, Ally said that the party gave Selman an opportunity to serve in the PNC and she proved to be an "opportunistic person who is only looking for money and opportunity."
She questioned if she was so abusive to Selman how she could have stayed at her home for one month in 2014 and three weeks in 2013 during the budget debates, where she "eat and sleep, use my food and transportation."
"Africo on many occasions had said that I am her role model. She has referred to me as her mother, so I am shocked at what she is saying now," the party Chief Whip said.
According to her, she always held the young parliamentarian in high esteem. "I have never abused her, that is not me," Ally said emphatically.
She stated that the partnership was aware that Selman has been "playing with the PPP and we know what she has been doing." She said her resignation two days before the dissolution of parliament was very strategic.
She also refuted Selman's statement that she had submitted motions and questions which were ignored. Ally said the former parliamentarian never did so but rather they had to beg her to write questions and they had to "show and teach her what to do."
"I also want Miss Selman to know that if she wanted to have an independent view, she should have ran in the elections as an independent candidate. But once you are in a party you have to support the party line…," Ally said.
She said Selman's resignation does not mean the partnership has lost since "she brought nothing…she was placed above many young people. She was given an opportunity by Mr [Robert] Corbin, who wanted to give young people a chance," Ally said.
Naive
According to Selman, when she joined the PNCR she was a naïve 23-year-old who believed in the party's then slogan of free education. It was PNCR member Aubrey Norton, who has himself been at loggerheads with the party, who lectured her at the University of Guyana and who encouraged her to join the party.
While Selman said Ally had verbally abused her before the 10th Parliament, Selman said Corbin would have spoken to Ally about it but since she became Chief Whip it was as if she became power drunk and abused her countless times over the past three years. And even though Selman said she complained to the party Leader David Granger, who appeared very accommodating, the abuse continued. She also said since the 10th Parliament many of the persons who were close to Corbin, including her, were sidelined.
And she said it was not a case that she complained to Granger every time the abuse took place, since she found that when you complain you are "vilified and victimised and if you choose to support somebody else and not the leader in the party you are crucified."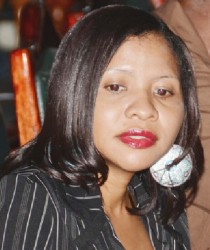 "I don't know how to 'buse. I don't curse. And you know what it was like to be abused in that manner?" Selman questioned as she recounted one of the alleged incidents.
That incident, she said, saw her subjected to very public abuse at the wake for APNU executive Deborah Backer, which Selman said left her mortified.
"I didn't go to the funeral because I shame, I am embarrassed…everybody there and what embarrassed me the most was that the charwomen were there, the helpers, the security, everybody there I shame, shame, shame I didn't even want to see those people again," Selman said.
The woman, who once lectured at the University of Guyana and is now a teacher at the Success Elementary School, made it clear that the partnership would not get her vote. When asked why, since she would have supported the PNCR for eight years, she said, "There is no unity." She said she had not supported attorney-at-law Basil Williams for the chairmanship of the party but threw her weight in favour of Cammie Ramsaroop, a move she believes worked against her.
Asked if her public comments cannot be viewed as her attempt to undermine a party she has supported for eight years, Selman said she cannot do what the party is doing to itself.
"I am not destroying the PNC. The PNC is destroying itself because they have no unity among themselves. They have no respect among themselves…," she said.
She also said if Granger had called her in and said, "'Miss Selman these are your concerns let's see how they can be addressed,' I would have felt a little better."
Overtures
Meanwhile, Selman said no one from the PPP has made overtures to her but she said the "possibility exists that I would join them."
"If they approach me, I would think about it…I don't rule out it [that she would be approached] nor do I see it happening," she said.
"My answer is no, but I would not rule it out, never rule out anything girl," Selman said when further probed on the issue.
"I have learnt to never say never, to never rule out any possibility… never close all your windows because you may need one to go through…and when one door is closed another door is opened."
Around the Web