The cause of death of Zaharudeen Rozan, who died after being held in the Parika Police Station lock-ups, is being disputed and his family maintains that the marks of violence on his body were the result of beatings.
Police have said an autopsy found that the cause of Rozan's death was consistent with an epileptic seizure, prompting a response from the Epilepsy Foundation of Guyana (EFG), which says such an occurrence is "highly unlikely." The dead man's father, Abdul Majeed, also said he was not aware that his son was epileptic although he had been told the man had once suffered an attack.
In a statement issued last Friday, the Guyana Police Force said a post-mortem examination was conducted on Rozan's body by pathologist Dr. Nehaul Singh and the cause of death was given as blunt trauma to the head, brain haemorrhage, and hyperextension. It said Singh explained that these were "consistent with an epileptic seizure," while also pointing out that there were bite marks on Rozan's tongue.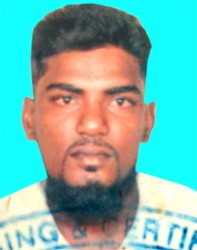 Rozan, 38, of Cornelia Ida, West Coast Demerara, was arrested after he allegedly damaged a neighbour's fence. He was taken first to the Leonora Police Station and then to the lock-ups at Parika, where his family says he died.
Police have claimed that the man died after banging his head against the concrete wall.
Majeed, of Hague Backdam, West Coast Demerara, told Stabroek News that as far as he knows, his son was never epileptic.
However, Rozan had relocated in the five months prior to his death and he had heard that he had an attack during this time. Nevertheless, the man continues to question the circumstances of his son's death and particularly the injuries he sustained. "He wouldn't injure his stomach, hands, knees, ankle and so," he said, while noting that one of his son's hands was broken.
Majeed said he wants to know the truth, given the marks of violence that were seen on his body.
He was told that his son was beaten while he was being taken to the lock-ups and was "crying out for pain." According to him, his son died at midnight and the police "fetched him out dead the next morning and took him to the Leonora Hospital," where he was pronounced dead on arrival.
He was angry too about going to the mortuary to identify Rozan's body and then being asked to leave the room while the police remained. "When they were finished never told me what the findings were," he said.
Majeed said he served the Guyana Police Force as a rural constable for over 30 years, while his son served for 10 years and had always been active.
'Relatively rare'
Meanwhile, EFG President Thomas Singh and Secretary Daam Barker, in a letter published in the March 5th edition of Stabroek News, said their organisation is "deeply disturbed" by the reports in the media about Rozan's death.
"While it is quite possible that Mr Rozan died from "blunt trauma to the head, brain haemorrhage and hypertension," as was reported, it is very difficult to associate "bite marks on the tongue" with an epileptic seizure that led to his sudden death," they wrote. "In the first instance, no evidence has been presented to indicate, as is being suggested, that the blunt trauma was the result of a (presumably grand mal) seizure. It is much more common for seizures to occur after "trauma to the head." Unless therefore the autopsy revealed the sequence of what happened, it would simply be impossible to attribute causation to either event," they added.
Persaud and Barker also noted that while epilepsy can be associated with sudden death from a seizure itself, and can happen even in patients with well controlled seizure disorders, such an occurrence is "relatively rare." "While it is therefore possible that Mr Rozan died because of a seizure, it is highly unlikely that was the case," they further said.
The EFG officials also explained that there are many types of seizures and not all of them are due to epilepsy. The diagnosis of epilepsy in a living person is not straightforward, especially in Guyana, they pointed out, adding that the diagnosis or even the inference of epilepsy on the basis of an autopsy "seems quite far-fetched."
In addition, they said it is highly unlikely that Rozan would have been operating a minibus unless his seizures were being effectively managed and very well controlled, "in which case his family would have known that he was an epileptic."
They further said that the protocol for putting people in the lock-ups, if it included eliciting information about the medical state of a prisoner, ought to have alerted the authorities to the possibility that the prisoner was prone to seizures.
Singh and Barker also registered the EFG's dismay that epilepsy is being associated with strange, erratic, "funny behaviour," including "the prisoner hitting himself along the concrete walls of the lock-ups." They said such reports feed into and reinforce the stigma, myths and superstitions about epilepsy and seizures. "These are precisely the things that lead to discrimination against epileptics at the workplace, in schools, and elsewhere in the wider society," they said.
They added that while epilepsy and the medication used to manage it may cause persons to experience mood disorders, and while people suffering with epilepsy may display mental health and behavioural problems, it is important to also note that epilepsy is a neurological disorder and in many places it is recognised simply as a disability.
Around the Web