The dead body of a Kaneville man was dropped off at the Diamond Diagnostic Centre on Thursday night and police are trying to determine how he met his end.
Dead is Shem Padmore, 28, of Kaneville, East Bank Demerara.
Although police said Padmore was shot once, relatives who viewed his remains said he had stab wounds to the back.
According to a police statement, Padmore was taken to the Diamond Diagnostic Centre at about 10 PM on Thursday by two men, who hurriedly left in a vehicle afterward.
The statement said Padmore was pronounced dead on arrival and his body had what appeared to be a "bullet injury" to the back.
Although his relatives were unclear about the circumstances under which Padmore was fatally wounded, Stabroek News was reliably informed that he was in Agricola when he got into an altercation with someone he knew well.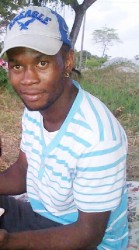 Crime Chief Leslie James yesterday said no arrests had been made, while noting that the police were still trying to understand what transpired. James, who said Padmore had been shot, noted that investigators do not know the identity of the shooter but opined that the persons who took him to the hospital might have been known to him.
A distraught Miranda Dennis said she was at a loss as to what might have led to the death of the father of her five-month-old son.
She recalled that all day Thursday she was out and when she returned home in the evening Padmore was there.
However, shortly after he left the house dressed in a t-shirt, short pants and a pair of slippers to buy fish and chips. She stressed that he did not leave the house in a condition which would have given the impression that he was going anywhere far.
Dennis said she fell asleep and woke around midnight, when she called out for Padmore but got no answer.
She said he did not have a cellular phone so she could not make contact with him. Later, she said a man, who identified himself as a policeman, called her phone and started questioning her about Padmore's whereabouts and where he worked. The rank, she said, then broke the news that he had been shot and killed and that his body was at the Diamond hospital. She later travelled to the hospital, where she was met with the sight of Padmore sprawled on a stretcher dead.
Dennis said that as far as she knew her husband had no problems with anyone. Asked if he might have been the victim of a robbery, she said she did not know.
Meanwhile, Doneeca Edinboro, the dead man's cousin, questioned why the security on duty at the Diamond hospital opted to only take the licence plate number of the vehicle that Padmore was transported in and not record the names of the persons who had brought him. She also said that she was told that three men who accompanied her cousin to the hospital and not two.
Edinboro said that she was at her home in the city when Dennis contacted her and related the tragic news. She said when she and other relatives arrived at the hospital, it took some time for them to see Padmore's body. She later counted three stab wounds about his back and she surmised that they were either inflicted with an ice pick or a screw driver. She said based on the location of the wounds, she is certain that her cousin was attacked by more than one person.
When Stabroek News visited the Kaneville area, residents were in shock at his death. Padmore was described as a helpful person. He was a father of two.
Around the Web