Current government officials who have committed wrongdoings will be investigated and prosecuted should the APNU+AFC alliance win the May 11th general elections, according to AFC leader Khemraj Ramjattan, who says such a move will serve as a deterrent to those who may want to commit similar offences.
"If we want this country to be a rule of law good governance country, you have to ensure that you state the position that you want the rule of law to be adhered to, otherwise… if we start allowing immunities for those who have done wrongs, we will have our own people in the next government doing wrongs because they will not have been deterred by any of the wrongdoings of previous administrations and it will just continue," Ramjattan explained in a recent interview with Stabroek News.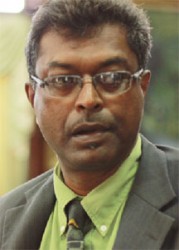 If nothing is done, Ramjattan pointed out, it calls into question the rules against financial improprieties and misconduct. "Those that have breached the law will be investigated, they will be prosecuted and if they have to be sentenced for jail terms, will be sentenced for jail terms," he said, while stressing that due process will be granted to all and the process would not be done with any venom or vindictiveness.
He said persons who commit "small crimes" go to jail, leading to the question: why not prosecute those who steal billions in breach of constitutional provisions? The AFC leader said he wants politicians and aspiring leaders to understand that they will go to jail if they do wrong and this is what is demanded at this time in Guyana rather than immunising them so that they could act with impunity.
"Governments are made up of men and women and they are not angels and, since we are not angels, you will have some that are gonna do evil," Ramjattan asserted. "How [does] a man-made system stop evil? It is by law and order," he said, while arguing that if they ever say they are not going to uphold the law, then the long arm of the law is being dismembered and he does not want this to happen.
In terms of whether any officials to be investigated have already been identified, Ramjattan said he has a fair idea of who some of these people are. "You have to (get) an objective police investigation going and then you do what you have to do and then fair proceedings in the court of law with prosecutions and then let the law take its course," he asserted.
Inclusion
However, Ramjattan noted, should the alliance win the elections, he would want to embrace those PPP members "who have not done wrong during the course of their tenure to come in and be accommodated in this grand alliance." He said that there will be many places that a new government will need to fill and the competences can come even from the PPP and they are not going to in any way prevent such inclusionary politics from happening.
Meantime, in terms of addressing corruption, Ramjattan said that an APNU+AFC government will effect laws and ensure that laws already in place are implemented. He also alluded to other standard practices carried out in the region to tackle corruption and bribery.
One of the portfolios, the AFC is likely to get is Home Affairs and he said they would implement the Disciplined Forces Commission report as well as recommendations from the Symonds Report on the security services. He said they would also get status assessments from operational institutions, such as the police force, and get an idea of what needs to be done and then make better decisions.
As it relates to the Public Procurement Com-mission (PPC), Ramjattan said that should the alliance win, this will be set up within 100 days. The Procurement Act as well as the constitutional provisions on procurement will be adhered to by the Procurement Commission, he said, while noting that the law is there and what is needed is to have the PPC constituted to do the work. He stated that the laws are in place but are not acted on because the PPP does not want this kind of scrutiny of the officials they have in control in the tender board that could do their bidding.
Hard decisions
Meantime, as it relates to development plans for Berbice, Ramjattan noted that it would be challenging because the economy there is largely based on rice and sugar.
He said the Skeldon sugar factory has put them in a difficult position because of the high production cost there. He said that the alliance would really have to come up with ideas and get rid of the GuySuCo board, which is not coming up with ideas, and let technical experts advise on how to remedy the factory. "We have to get back to what are the husbandry practices that GuySuCo has abandoned," he noted, while observing that the main sugar workers' union GAWU has been speaking on this. He also noted the involvement of the private sector and production of value-added goods.
On whether privatisation and downsizing could be considered, the AFC leader said that this would be a difficult decision to make at this point.
This kind of decision would have to be made jointly with APNU, he said. "I do not see us thinking privatisation at this moment but hard decisions will have to be made when the status is better known and the assessments as to the status we are better informed about," he stated.
As to whether he would accept a vice-presidential position if offered, Ramjattan said he would have to give it serious thought but he thinks that he would accept it.
He said that he has been working hard to be part of a governance system that can change the country and it might be a little impolite not to want to play a role to serve Guyana.
The AFC and APNU have decided that they will campaign together to touch every household, he said.
He noted that despite the advantages that the PPP has in terms of access to state resources, the ruling party had put up a huge campaign in the last elections but did not get a majority.
The PPP is more discredited now than any other year and cannot be trusted, he declared.
"They are not Jagan's heirs, they are a totally different political animal from the Jagan's that we know from the 1990s to almost 1999. They are a corrupt lot, they are a racist lot and they are openly Apaan Jaat with their politics," he asserted.
Ramjattan appealed to the electorate to give the alliance a chance, saying that there is a need for a change in order to ensure good governance.
Around the Web