A miner was yesterday found dead with what appeared to be several chop wounds at a camp at Mahdia, leaving his family in a state of shock while questioning the motive behind his murder.
The dead man was identified as James, Charles Major, 57, of Victoria, East Coast Demerara, who police said was found around 6 AM along a trail at Dickman Hill, Mahdia, with several lacerations. He was later pronounced dead on arrival at the Mahdia Hospital.
However, Crime Chief Leslie James said Major was found dead at a mining camp. James said based on investigations conducted, a miner from a nearby camp had passed the area and saw Major in the company of another man.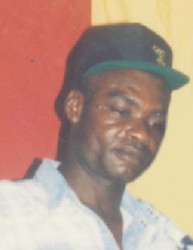 When the miner passed back sometime later, he found Major dead. James said attempts were being made to speak to the man who was last seen with Major.
Meanwhile, Lavern Major, the dead man's sister, told Stabroek News that the family is in shock. The grieving woman said her brother took up residence in Mahdia area last June because he was operating a dredge there.
She said the family had no idea about what would have caused someone to murder Major, since he was never a troublemaker and was always quiet and jovial.
"A who go do da to uncle Charles? If you see how them minces he up… you can't minces up a human being like that… wah them think is beef they chopping?" another relative lamented as she recalled Major, whom she described as "a good man."
The news of the man's death reached the family by way of a phone call from another relative, who was in Mahdia at the time.
The man's family, which is hoping that justice will be served, was also told that two persons were in police custody assisting with the investigation.
Major is survived by his five children, six siblings and his 75-year-old mother.
Around the Web