Having hammered out a deal to contest general elections on a common slate, APNU+AFC is now preparing to engage in broad discussions with civil society on the shape of its participation in governance if the alliance wins the May 11 general elections.
"It is the intention to shortly hold discussions with a range of civil society representatives in order to plot a path forward," APNU lead negotiator in the talks Carl Greenidge told Stabroek News.
After weeks of negotiations, both APNU and the AFC signed an agreement—the Cummingsburg Accord—and announced on February 14 that they would contest the elections on a joint slate in a bid to unseat the incumbent PPP/C, which has been in office for over 22 years. They also announced a series of plans that include a myriad of persons from various sections of society. Some of those pertained to arrangements before the May 11 elections and others to the post-election period.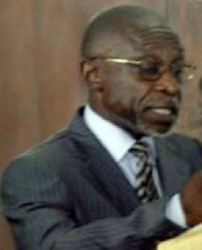 Greenidge said that so far they have only completed the first of these arrangements and although there has been some subsequent sessions, the exercise is not concluded. He stressed that a pivotal area of agreement had to do with the future landscape of the governance regime. "More specifically there is the matter of the role of stakeholders who we described as civil society but which includes the entire gamut of actors, such as the religious community, the labour movement (unions), the private sector and various other NGOs etcetera," he pointed out.
"These did not generate many differences of views but the specific modalities of their involvement in future governance have to be hammered out and, presumably, with their concurrence," he went on to add.
He explained that a stakeholder forum will be immediately created if APNU+AFC is elected and forms the Cabinet.
Then, he said, social issues plaguing the country will be divided among the ministers, who will be charged with formulating an action plan involving civil society and stakeholders in specific areas. "One of our joint priorities is reducing the level of crimes, domestic violence, and, as such, early civil society input will be had. This stakeholder body, including experts and interested parties, will see people on the receiving end and then you try synthetising all the recommendations received to form a big plan," he added.
"We want everyone to know that for their respective areas they can be heard through their civil society representatives. So for example, from a community side you will have residents who will say at the forum 'I live in East La Penitence and there are no recreational facilities for our youth and another that we don't have enough programmes… you are going to draw here from civil society and fashion a plan and this plan will be short and long term while still being sustainable," he explained.
Greenidge said his government intends to make full use of Article 13 of the Constitution, which speaks to the participation of the citizenry in decision-making as it relates to issues that affect them.
"The principal objective of the political system of the state is to establish an inclusionary democracy by providing increasing opportunities for the participation of citizens, and their organisations in the management and decision-making processes of the state, with particular emphasis on those areas of decision-making that directly affect their well-being," Article 13 states.
According to Greenidge, the stakeholder forum will be used to draw up a national plan with roles for different bodies.
He said that while it sounds simple, it can be taxing on human resource and skills as it will also need to be broken down according to geography and will also have an overlap into local governance.
Nonetheless, he noted that both APNU and the AFC have been listening to the public and aim to put in place policies, institutions and arrangements that reflect public sentiments and aspirations. As a result, he said these areas require that the parties sit and hammer out some specific guidelines, which they are fervently working on currently.
Around the Web