Story and photos by Shabna Ullah
Cornelia Ida is one of the largest villages on the West Coast Demerara and a hub for prominent businesses that cater to the needs of residents as well as to nearby communities.
The village has a diverse population, though residents are mostly Indo-Guyanese. Its commercial centre means that it provides employment for many persons.
Described as being peaceful with residents looking out for each other, the village also has the most active cricket team at both the junior and senior levels.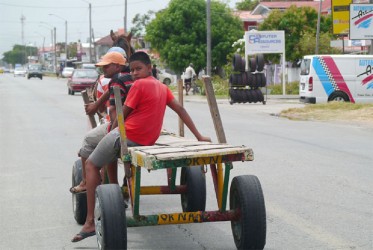 While a few young people would gang up at street corners and at the bus shed it would only be for friendly conversations, villagers say. And although some would indulge in the use of drugs and alcohol, it is not a major issue, they added.
Residents do not have the time for idling as they are too occupied with making a living. If they are not operating a small roadside snackette or grocery shop, they are working as cane-harvesters, cooks and cleaners or are rearing livestock or planting kitchen or flower gardens.
Some also work as auditors, accountants, teachers, carpenters, drivers and clerks while many have sought employment at businesses in the village like at Akbar Auto Sales/furniture factory, which suffered major losses during a recent fire.
Cornelia Ida is also home to Amo's Auto Spares & Accessories, general stores and boutiques one of which stocks exquisite Indian wear, a hardware store, a pharmacy, a Chinese restaurant, taxi services and a wash bay.
A family, too shy to have their names printed, told the 'World Beyond Georgetown' that they moved there from Windsor Forest 21 years ago.
Many of the residents have since migrated and there are lots of new faces now. Some of the houses remain abandoned while others have been occupied by tenants or caretakers.
The village is said to be relatively safe as residents own "watch dogs" and have not had much problems with theft. They boasted that "we can leave expensive things outside [of the house] and nobody would trouble them."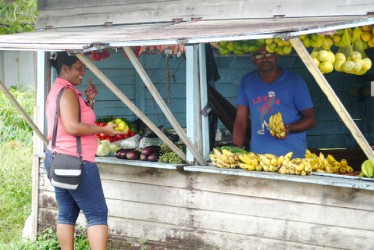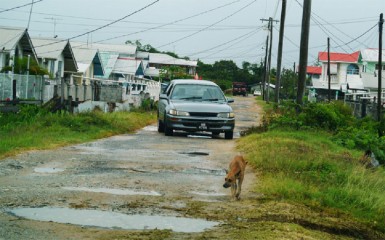 With the establishment of two housing schemes 15 years ago, 'CI', as it is called, was further developed and has become home to persons from all across the country.
But like in other schemes, many persons who received house lots have failed to occupy them, resulting in them becoming eyesores with thick bushes taking over and serving as havens for snakes.
CI has three playgrounds and a community centre where many of the youth go to keep themselves out of trouble.
There is also a mosque and two mandirs, nursery and primary schools, two private schools: Academy of Excellence and Saraswati Vidya Niketan, two orphanages including the Prabhu Sharan, Computer Resources, E-Networks, Western Union, a tyre shop, a beauty salon, a barber and grocery shops, body repair and mechanic shops and Niko Guttering Services.
The children would have entertainment occasionally when the owner of the barber shop hosts special shows for them together with barbecue to raise funds.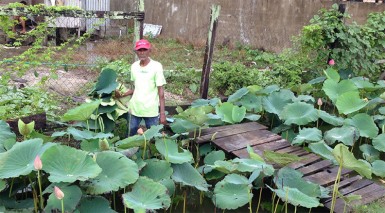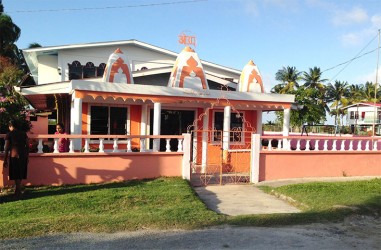 Many of the residents are keeping abreast with the advanced technology and have internet access in their homes. Persons now consider this a necessity rather than a luxury.
Residents, especially those living overseas would indulge in activities that would benefit the community, for instance, providing meals to the children of the orphanages. The children would also be provided with jobs when they grow older.
Most intelligent resident
This reporter was pleased to be introduced to an elderly resident; Sewchand 'Butchie' Sukhram, 76, who was said to be the most intelligent in the village.
Persons were saddened at the conditions under which he lives but yet nothing has been done to help him improve his life.
His unpainted house is old and weather-beaten, and sections seemed to be falling apart. Sukhram is frail and his old tattered clothing has seen better days. But when he spoke you know instantly that this was no ordinary man.
Sukhram revealed that he had obtained a degree in Physics at the University of London in the 1960s and had also read for his masters in the United States of America.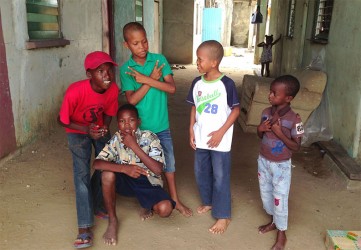 He returned from London where he also had a job, seven years later and worked as science master at Queen's College before going off to the US in 1971. Upon his return in 1974 he worked as a science master at the Bishops' High School.
But it was his subsequent transfer to Christ Church Secondary that threw his career into turmoil. Sukhram was not pleased with the conditions at that school and applied to the Ministry of Education for a transfer.
He was told that he had to resign and reapply before it could be granted. With deep sadness and lost hope, he said, he did so but "up to now I can't get it."
He recalled that as a young boy growing up in the village, there were just a few good houses and that the road was made of loam. He said too that "in the Colonial days life was very primitive."
The soft-spoken Sukhram told this reporter that had he been prepared for the interview, he would have given a lot more information. He said, "Let me know when you are coming again so I can be better prepared."
Obliquely opposite his home lives an elderly woman, 87-year-old Anganny Rupchand, who although she was not well at the time, was very pleasant.
She too was born and grew up in the village and said her father owned a business. She got married at the age of 18 and moved with her husband who was a painter, to Mc Doom. She subsequently returned to CI.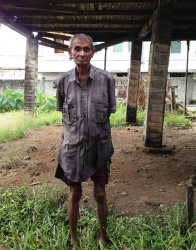 Ten of her 12 children are alive and she recalled sadly that one of her sons was going to school when a cow chased him and "he run across the road and a car knock he down."
Rupchand did "all kinds of work" including making snacks to sell at the school, rearing cattle and planting a kitchen garden in order to assist her husband in taking care of their home and large family. One of her daughters was visiting her at the time.
Housing scheme
At the corner of the street to the Block 'X' scheme, Dhankar Dwarka was vending vegetables, fruits and ground provision. Originally from Wakenaam, he planted a provision farm and also worked as a speedboat captain.
He moved a few years ago after he built a house at Greenwich Park, but left it behind because he found out that his wife was unfaithful.
He said it was enough for anyone to become violent but he chose to "walk out peacefully."
On the opposite side, Ramnarine, 40, a cane harvester at GuySuCo was selling chips and other snacks from a small glass-case.
His wife, Deowattie Ramnarine would make the chips and sell them but he assists her whenever he's not working.
He has been living in the scheme for the past six years and said it is difficult to traverse the long distance every day but it is also a "good exercise."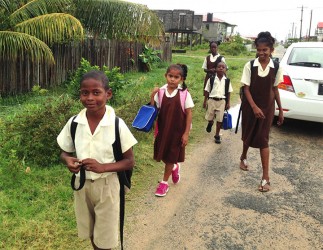 Other residents of the scheme told this newspaper that some of the streets are in a deplorable condition and are causing damage to their vehicles. They said too that they are "paying for treated water but we are not getting that."
Sherry operates a small shop in the scheme. She sells Brazilian jewellery as well as the snacks she makes, which she also does on orders to send overseas.
But that does not stop her from being engaged in housekeeping chores at the homes of relatives. Her daughter Subrina was left to attend to the shop as she set off to a relative's home that day.
Apartments
George Benjamin, who is 89 years old and said to be the oldest resident, lives at the other end of the village. He became the first Afro-Guyanese resident after purchasing a long stretch of land from the Chase Manhattan Bank in 1972.
He moved from Queenstown, Essequibo in 1973 with his wife Elfrida (now deceased) and operated a rice mill, which unfortunately was destroyed by fire two years later.
He then decided to construct some small apartments and rent them in order to earn an income.
He continues to help many persons to have a place to reside through the rental of apartments and has started to construct another building.
The man is disappointed though that some of the tenants are not honouring their obligations to pay the rent while some are keeping the surroundings in unhygienic conditions.
Benjamin was into business since his days in Essequibo where he operated a liquor restaurant and subsequently owned another one at Uitvlugt.
Apart from that he did red beans and ground provision farming at Vergenoegen. He also bought another plot of land at Hague where he also constructed apartments to rent.
He recalled that when he moved to CI "there was racial tension in the village" as some persons were "not too happy when I moved there."
But soon after he provided employment for many of the villagers and they got to respect and like him.
His son Peter lives with him while his four other children live on their own with their families. Peter, who was into gold mining said the gold price is low but 'if it picks up I'll get back into it. Right now it can't pay."
He has started to rear pigs and poultry and said that business is "doing well. I try to source feed at cheaper price…"
Some of Benjamin's tenants were too shy to speak to this newspaper and when they finally agreed they did not want to have their photos taken.
Merlene Hyman, 63, lived in the village for the past three years after moving from Anna Catherina. She prefers Anna Catherina because "I born and grow there. I like there bad."
She did domestic work to survive but because of arthritis she's "taking it easy now; I'm just babysitting my niece's baby."
Next to her apartment, Tonzia Ottley, 20, lives with her family. She works as an operator at a transmission station that sends messages to the interior.
"Persons would go to a transmission station there [interior] and call my frequency and give the numbers for their relatives here," she explains to this newspaper.
"I would put on a patch [connect the call to the relatives' phone lines] so they can speak to them directly." Whenever the customers return they would pay the bills.
She finds CI to be peaceful and quiet although there may be some people who are difficult "but you just have to know how to deal with them."
Nearby, Pausha Prince who also moved there three years ago had just finished tidying her home and was preparing to give her nine-month-old baby, Shania a bath.
She has three other children; Akasha, 15; Daron, 10 and one-year-old Jodiah and considers herself a "fulltime mom."
She worked at her sister-in-law's restaurant on Croal Street as a cook and a waitress while residing in Albouystown and also baked pastries and other goodies.
Her husband Aqkeoun Bovell works at BK International as an operator of heavy machinery.
Pausha who is originally from New Amsterdam hopes to one day improve her life and own a home for her family.
It was a rainy day when this newspaper visited and while many were kept indoors, it did not stop the bustle in the village. Some schools held a 'double session' and children were happy to return home early.
Around the Web