Some farmers of Laluni on the Linden-Soesdyke Highway are fearful of losing their farmlands after a 25-acre plot of land was recently demarcated by the Guyana Lands and Surveys Commission.
The farmers say they were told that the land is intended for Minister of Amerindian Affairs Pauline Sukhai. Repeated attempts to contact Minister Sukhai for a comment on the situation were fruitless and this newspaper was told that she was busy and would return a call at a convenient time. This was never done.
The concerns of at least six families and some youths from the area who say they would be affected if the land is taken away were related to a group led by Valerie Garrido-Lowe of the Alliance For Change (AFC) during a recent visit to the Region 10 community.
According to information from the AFC, the group of officials visited the area and was told that on Wednesday, February 25, 2015, surveyors from the Lands and Survey Commission went into Laluni and started placing boundary markers within approximately three acres of farmlands belonging to the six families.
The farmers expressed concern over the possibility of their lands being taken away, since most of the land which is being marked off is already under cultivation and farming is their livelihood.
Kamini and Elroy Henry, who have been residing at Laluni for 33 years, inherited land from a relative and are awaiting the legal transfer. But they now say they fear losing the approximately three acres that were demarcated from the property.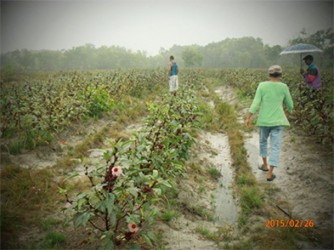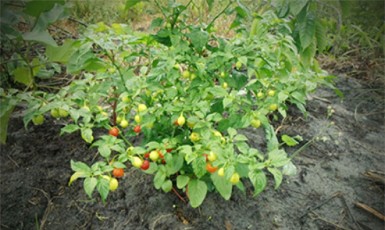 Kamini Henry also related to Stabroek News that when her husband approached the Lands and Surveys Commission last May to apply legally for the land, he was told that it will be granted to him.
However, after he returned last week, he was told that three acres of the land is intended for a government reserve.
She said the land is fully cultivated.
Vickram Persaud, who has been living at Laluni for 50 years, said three acres of his land was also demarcated, as did Juliet Henry, a single parent who has been living at Laluni for 35 years.
Also reporting that three acres of his land was marked off was resident Raymond Dundas, who has been living and farming on the land since 1994. He also noted that he had applied for two acres of land for his adopted daughter and was told to pay $180,000 for the two acres but cannot afford the sum.
The son of the founder of Laluni, Martin Henry, who has a lease for his land, also said three acres of his property were marked off.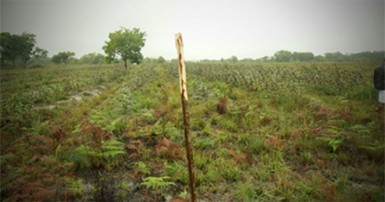 Some young people in the community also voiced their fear about losing a portion of their playground, which is also intended to be cut off.
Garrido-Lowe said that the sight was shocking when she observed the vast amount of cultivated land which was demarcated. "There were rows of sorrel, sweet peppers and boulangers and now that the new [markers] were placed almost all of their plants are cut off," she stated.
Around the Web