The Periwinkle Cancer Club recently received $1 million by order of the Supreme Court from the Estate of the late Stella Bacchus after the Cancer Society, the original beneficiary of the money, ceased functioning.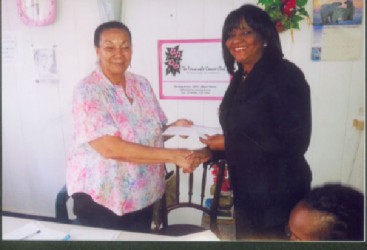 Stella Bacchus, a former member of the Periwinkle Club and a lecturer at the Guyana School of Nursing, donated the money to the Cancer Society in her last will and testament but by the date of her death the society had stopped operations.
The Periwinkle Club, another cancer organization, received the donation after the matter was brought before acting Chief Justice Ian Chang by the executrix of Bacchus's estate Attorney Gem Sanford-Johnson.
Periwinkle Club released a statement, saying: "In law however the gift does not fail but by virtue of the cy-pres doctrine, goes to the next charitable society with similar interest."
The club also thanked Sanford-Johnson for carrying out the wishes of Bacchus, stating that the money would help to make cancer survivors less uncomfortable and their treatment more affordable.
Around the Web