The widow of slain ex-policeman Beepat Taijram says claims of his links to criminality are part of an attempt to stain his good character when attention ought to be given to catching the persons who shot him dead before robbing him almost three weeks ago.
There have been reports that Taijram not only had a pending criminal matter before the court but that he was also held as recent as last December in Berbice on suspicions that he and the three other men with him were about to commit an armed robbery. A report in another section of the media stated that he had an unsavory past and acts of corruption were responsible for him being booted out of the police force.
During a recent interview, Romene, his wife of two years, strongly denied that Taijram was involved in criminal activities or was associated in any way with criminals. "Since I know him he had those stuff [gold jewellery]. He came from a good family, so he didn't need to stray away," the still grieving woman said. She said she is still in shock over his death and has relocated from their Albouystown home since.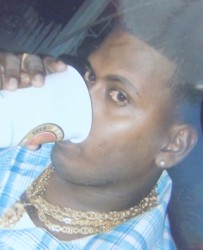 According to Crime Chief Leslie James, Taijram's death is being treated by investigators as a robbery/murder and so far police have been unable to identify the two gunmen who attacked him before shooting him dead along the Grove Public Road, East Bank Demerara.
James confirmed that Taijram, who had been attached to the Tactical Service Unit, was interdicted from duty in 2012 and he had a pending matter before the court.
Stabroek News was unable to ascertain from the police what the man had been charged with but was told by sources that it was a gun charge.
A distraught Romene said her husband's interdiction occurred before they were married and she never questioned him about it because it happened long before their relationship became serious. Taijram, she noted, was a member of the Guyana Police Force for about six years before he was interdicted, after which he began operating a minibus.
She denied that he had a matter before the court, saying if he did she would have known. She said sections of the media have been publishing untruths about her husband which have left her hurt and frustrated.
She said to the best of her knowledge Taijram was never involved in any robbery and was not arrested in a car with anyone last December. "I am hurt by what is being said. The funeral had not even happened yet and all of these things were published. I was frustrated," she said before stressing, "I know my husband."
She said Taijram was nothing like the picture that is being painted of him and questioned whether persons would have said he was a bad person if he had survived the attack.
She said it makes no sense to speak ill of someone when they are dead and have no way of defending themselves. What is important now, she emphasised, is that the police investigate his killing. Now that the funeral is over and the first twelve days of mourning have passed, she plans on checking in with the police for an update and also to voice her displeasure at the things that have been said by so-called police sources.
"If he was involved in anything, police should have dealt with him and try him," the woman stressed.
She said she could not speak to whether his death was the result of a robbery but she pointed out that "it don't make no sense to us."
Romene said Taijram's death is a great loss to her and their son, especially since he was their sole provider.
She recalled that earlier this year she was sitting in a minibus and a man who was passing snatched a gold band she was wearing. She said she made a report to a policeman standing nearby and instead of pursuing the man the rank said his foot was bad. She pointed out that the rank did not even have a baton or a walkie-talkie with which he could have called for backup. She said all of this points to the fact that little is being done to tackle crime and protect citizens.
Police had said that around 3 PM on February 16, Taijram, 28, of Albouys Street, Albouystown, was shot and killed during an armed robbery.
According to police, Taijram was held at gunpoint by two men, one of whom was armed with a firearm, and had travelled in his vehicle as passengers from the bus park in Georgetown. They demanded his gold jewellery but he resisted and managed to exit his vehicle, at which point he was shot several times by the armed perpetrator. The men then took away his gold jewellery and managed to escape, despite efforts by a member of the Guyana Defence Force who was in the vicinity and had fired rounds in their direction.
The wounded man, police said was taken to the Diamond Diagnostic Centre, where he was pronounced dead on arrival.
An eyewitness to the shooting had told Stabroek News that Taijram begged for his life to be spared but he was shot several times.
Around the Web