The PPP's Prime Ministerial candidate Elisabeth Harper spoke for the first time on the party platform yesterday and pledged her service to the nation.
Harper, who remains Director-General of the Ministry of Foreign Affairs until the end of this month, spoke for less than three minutes and was received with applause from the crowd at the Cheddi Jagan Memorial held yesterday at Port Mourant, Berbice. For the remainder of the over two hours programme, she remained sitting on stage, rarely smiling. She sat between former President Bharrat Jagdeo who a few times leaned over to speak to her, and Prime Minister Samuel Hinds who, most of the time, kept his eyes closed.
"I pledge myself to dedicate my energies to building Guyana to a more prosperous nation," Harper promised supporters. Dressed in a red shirt and black pants and donning sunglasses, Harper took to the podium seemingly timid but became more confident as the crowd received her with thunderous applause.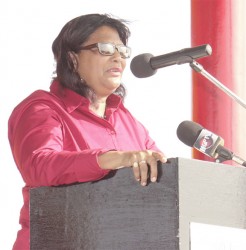 She spoke in her normal tone of voice, firstly paying tribute to women across the political divide and urging them to celebrate themselves for the tireless work they undertake in moulding the country in whatever capacity. Yesterday was also International Women's Day.
"You all need to take you time and not be modest and remember how much you are building your homes and your families and this nation," she said.
The Prime Ministerial hopeful said that she believes that if elected, she can make a positive contribution in building the country. "I believe in Guyana. I believe in service to Guyana and I wholeheartedly believe that, given the opportunity, I can work with President Ramotar in the next majority government, to contribute to increasing the potential of this great nation that we live in," she stated.
Giving credit to the youth arm of the PPP/C- the PYO-, she explained that their march into the venue earlier in the afternoon served as energy for her. "I believe indeed that you are our future. I want to encourage all of you, everyone, to put Guyana first…let us work to build this beautiful land of ours," she told them.
On February 21st, Harper, who served as Director-General at the Ministry of Foreign Affairs for a number of years, was named to replace Hinds as the Prime Ministerial candidate for the People's Progressive Party/Civic for the May 11th general elections. She will leave that post later this month to fully take up her role in the party.
Around the Web