Cheddi (Joey) Jagan Jr, the son of late presidents Dr. Cheddi Jagan and Janet Jagan has hailed the APNU+AFC alliance, recalling that his father on innumerable occasions, called for coalition politics.
"The recent announcement of the APNU-AFC coalition is a historic moment in Guyanese politics, and I would like to take this opportunity to congratulate all those who brought this coalition about," Jagan Jr wrote in a letter to Stabroek News last week. "From what I have read about the arrangements and conditions between these two parties, there are enough checks and balances placed in the general agreements, that a voter who might be undecided at this time, can identify the merits of this coalition against majority (one-party) rule, which we, the Guyanese people, have experienced all our natural lives and which has left us divided and has weakened our dear nation," he said.
On February 14, following weeks of negotiations, APNU and the AFC signed an agreement – the Cummingsburg Accord – which has seen the two parties uniting under a single banner for the May 11 general elections. The coalition named APNU leader David Granger as its presidential candidate and AFC executive Moses Nagamootoo as the prime ministerial candidate. While there have been criticisms of the two parties coming together many believe that this is the best shot they have at defeating the PPP/C. The PPP/C slate is headed by President Donald Ramotar with Elisabeth Harper as his running mate.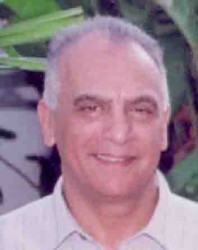 Jagan Jr, who was on the PPP platform in the 2011 elections but has since dissociated himself from it, noted that Mahatma Gandhi exhorted against majority rule in India while Nelson Mandela advocated against and rejected majority rule in South Africa, bringing his former sworn enemies into his first government. In Trinidad, the current Prime Minister Kamla Persad-Bissessar has rejected majority rule for coalition governance and in many countries throughout the planet, coalition governance is the answer to civil and political strife, he contended.
"Coalition politics is the new world order; President Cheddi, on innumerable occasions, called for coalition politics and in 1992, created the Civic as a partner of the PPP, hoping to expand the civic as a component of the PPP/Civic amalgamation. This was one of his greatest hopes, as he told me on many occasions," he wrote.
Jagan Jr said that since his father's passing in 1997, the Civic has been marginalized to the point where Prime Minister Sam Hinds became a one-man show after failing President Cheddi's vision, "miserably, to say the least" and his imminent departure from the Prime Minister's office is good news.
"The Civic is dead and any semblance of coalition politics has changed to PPP majority rule (even though they became a minority government)," Jagan Jr wrote. He said that when PPP leaders claim to be following President Cheddi's vision, they should explain the demise and death of the Civic which Dr Jagan placed so much hope in.
He said that Harper, even though a good civil servant, is hardly a civic leader and in reality, becomes window dressing for President Cheddi's vision – a mirage of what that great man envisioned. "Let coalition politics prevail in our nation and those who oppose it will fall by the wayside, becoming politically insignificant," he said.
 Resign
Meantime, the son of the late PPP founder has also taken the government to task for the huge amounts of State aid granted to government officials for medical and dental expenses. "President Cheddi would never have approved these medical and dental expenditures if he was alive today, and Minister (of Amerindian Affairs) Pauline Sukhai should resign out of shame and respect for Jagan on his anniversary," he said.
Stabroek News has reported that of the $361.4 million disbursed by the State as financial assistance for medical treatment in the 2012-2013 period, the majority – over $200 million – was spent on top government officials and their associates.
"It is regrettable that the Minister of Amerindian Affairs would spend $2.1 million in dental treatment when most Amerindians can barely afford extractions; it is regrettable that (wife of Prime Minister Samuel Hinds) Mrs Hinds could spend $780,000 on dental treatment when most citizens from Linden can't afford good dental treatment. It is regrettable that Minister (of Human Services Jennifer) Webster would spend $1.2 million of the taxpayers' money when the average sugar worker can barely make ends meet," Jagan Jr wrote.
"As to the expenditures on medical treatment, it is indeed alarming that government officials could not receive treatment in our own medical services which are so much boasted about in government propaganda," he said while noting that he has utilized the services of the Georgetown Public Hospital. He questioned why government officials cannot do the same instead of incurring huge expenses paid by the taxpayer.
"As a matter of fact, I remember the day when President Cheddi took in and was at the Georgetown Hospital fighting for his life, and at the emergency meeting in the hospital where all were gathered and Roger Luncheon asked the question about who would pay for President Cheddi's medical evacuation to the USA, I was so enraged at his question that I would not repeat what I told him. Today, all the big shots, including Dr Luncheon, go abroad while the regular Guyanese have to deal with sub-standard medical treatments," the son of the late president wrote.
Jagan Jr also clarified that his office at 199 Charlotte Street has never been the recipient of any government cheque for dentistry.
"These government officials should remember what President Cheddi said: "A Cadillac [Rolls Royce] lifestyle by government officials in a donkey-cart economy is not what the Guyanese people deserve"," he wrote.
Around the Web