A Mocha resident died after he was shot to the left side of his face by a bandit at around 1:00 am yesterday after he was awakened by loud banging on his door.
Jermain Giles, 34, a mason of Barnwell, North Mocha, East Bank Demerara (EBD) was pronounced dead on arrival at the Georgetown Public Hospital (GPH), hours after the incident.
According to reports reaching Stabroek News, Giles who lived with his reputed wife Joylyn Oliver, for the past seven years, was awakened by a loud noise.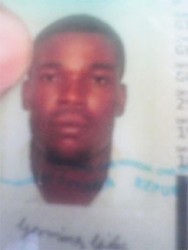 Speaking to this newspaper, the dead man's sister, Doreen Emptage said, "I was at work when I got a phone call from my sister saying that my brother got shot and we just keep the phone contact up because we wanted to know what exactly was going on."
The grieving woman further stated that when she received a second call it was to inform her that Giles was still at the Diamond hospital at about 2:35 am, waiting to be transferred to the GPH. "I saw when the ambulance pass and I telling me sister `look, they passing now'". Emptage added that her younger brother told her he was heading to the hospital moments after she saw the ambulance passing but he noted that the news he had just received was not nice and Giles was not doing well. "The last call I got was to confirm one of my greatest fear, about 3:00 am he breathe his last breath to a gunshot allegedly by bandits", she said.
With tears in her eyes, the woman said, "He is my little brother and I am taking it really hard. I mean he just 34, he didn't deserve to go down like this. If he was sick and ailing I would have understand but a young man who is full of life and potential and stuff like that and this just happen to him it's very hurtful to know."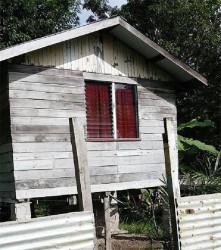 His eldest brother, Kerry Giles, told this newspaper that although he lived not far away from his brother he received the news long after the incident. Kerry said he learnt that, "two men started rocking down the door and lashing up the window them and me brother peep out the back window to see what was all the noise about and he was shot right there straight to he face by one of the men. After they done shoot him, they jump through the said window, walk over he and went to Oliver (his wife) and demanded money and gold but she told them she don't have anything and they take away two cell phones before escaping."
Kerry said he hopes that the police find these men because he found the way his brother was killed really 'fishy'.
Attempts to speak to Oliver proved futile since her whereabouts were unknown but she was last seen by Kerry at the Mocha Police Station.
When Stabroek News visited the house where the incident occurred, no one was home and a padlock was seen on the door.
According to a police press release, at about 1:00 hours, yesterday, Giles was awakened by a noise at his door and as he opened a window to check the noise and was shot to his head. The release also stated that two men entered the house through the open window and held up Giles' wife, after which they searched the home and took away a cell phone and escaped.
Giles' body is presently at the GPH Mortuary awaiting a post-mortem examination which will be conducted today. (Sharda Bacchus)
Around the Web