President Donald Ramotar yesterday said that he was more than frustrated by the opposition during the three years of his presidency and pleaded with voters to return his party with a majority at upcoming elections.
In a speech, which lasted for over 40 minutes and towards the end saw persons walking out of the Babu John cemetery, the president blasted the opposition's action in the last Parliament. "What I did not have in the opposition benches was patriots… not one day did they say 'Ramotar build more roads in Berbice' not one single day, 'build more school, hospitals'…" Ramotar told the gathering of hundreds of PPP supporters, some trucked and bussed in from various parts of the country.
The occasion was the annual commemoration of the lives of the two late Presidents Cheddi and Janet Jagan at the Cheddi Jagan memorial at Babu John, Port Mourant, Berbice. The occasion served as a kick-start for the PPP's campaign for the May 11 general elections. Most ministers of government were present but remained somewhat unmoved as they rarely applauded in concert with the crowd. Ramotar did not garner as much applause as former President Bharrat Jagdeo and at points, sections of the crowd seemed disinterested in what he had to say.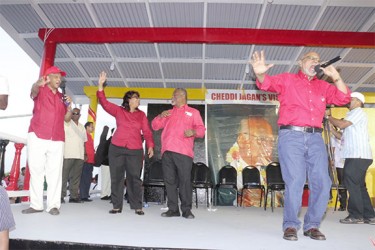 The PPP's Prime Ministerial Candidate for the May 11th General and Regional Elections, Elisabeth Harper joined the list of main speakers which included Jagdeo, Prime Minister Samuel Hinds and Party General Secretary Clement Rohee. Cabinet Secretary Dr Roger Luncheon, supported by his walker, braved his own illness and was in attendance, cheering along and waving the party flag when he felt a point should be acknowledged with support. Apart from Ramotar and Rohee to an extent, most of the speakers said little about the Jagans and only one member of the Jagan family was seen.
Pleading with attendees to go out and vote so that his party can regain the majority it held from 1992 to 2011, Ramotar lamented his frustrations during his three-year tenure as a minority president.
He affirmed that he was frustrated during those three years, a point that Jagdeo alluded to earlier in the afternoon. Jagdeo had said that he could only imagine the frustration that Ramotar felt watching proposals he made being rejected by the joint opposition.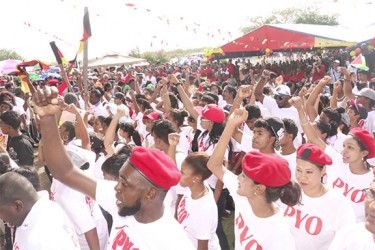 Ramotar said that Jagdeo was "putting it mildly" and listed some of the projects rejected. He blamed the opposition for the non-passage of the anti-money laundering (AML) bill and suggested that they are financed by drug dealers and other criminals who the law would put under greater scrutiny. "They refused on two occasion to pass the AML bill. If we don't pass that bill there is danger our financial sector…they refused two times and decided to vote to protect the drug traffickers and money launderers in our country," Ramotar said.
"Maybe that is where they are getting their finances from and that is one of the reasons they are speaking from both sides of their mouth. How can they say they are against crime and drug trafficking and vote against the AML," he added.
He boasted of changes in the social sector made under the PPP administration saying it was one of their biggest achievements. "We have extended social services to our people. It is important to us," Ramotar pointed out.
Ramotar told voters that putting the APNU+AFC coalition into the leadership of Guyana would mean going back to an era where they would have to line up for food and every-day supplies.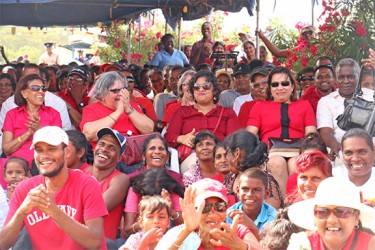 "They believe if they can make things bad in our country, if they drive you back to the lines for a quarter pint and of oil and a packet of cigarettes that will change their political fortunes," he said.
The president said that voters should not be fooled by the change of the party's name as that does not reflect a party that wants to highlight development as it was only criminals who seek name changes to hide their nefarious activities.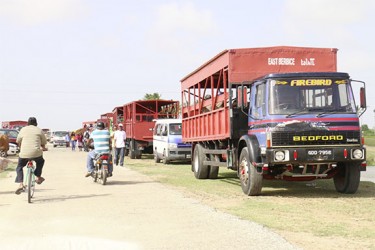 The president promised that should the PPP/C win the election on May 11th, the Amaila hydropower project will be started before the end of this year. He also promised that a deep water harbour would be located in Berbice, giving persons of that county more job opportunities.
Meantime, having been thanked by members of the party for the service he has provided over the years, Hinds, during his last address at the location in his capacity as Prime Minister, reflected on the life of Dr Cheddi Jagan and the political input he has made in Guyana's progress. He said that he learnt from Jagan's characteristics and teachings. "I have achieved quite a bit, I feel comfortably pleased working with my old buddy comrade doctor," he said.
Party General Secretary Clement Rohee during a vociferous address, took jibes at the opposition and this newspaper. "We have to fight them and fight we will. These elections is all about good over evil and we all know that good triumphs over evil. …the Stabroek News tried to convince the people that we have destroyed this country and have not done a single thing for this country but comrades you know better and you have enjoyed what we have done," Rohee shouted.
Using lyrics from the popular song 'Scorpion' he said that the "marriage of the APNU to the AFC must be exposed for the farce it is. Like the scorpion we have not lost our sting. We must sing to them 'A scorpion bite meh a feel like a gon dead' and one Valentine darling will say to the other Valentine darling 'put meh fuh lie down in meh bed'," he said.
Rohee also launched a scathing attack on persons in the APNU+AFC alliance who he did not name. "They claim that they have decent and honest people among them, comrades let me tell you…what do they have? They have a rapist, they have a pedophile, they have an elections rigger, a ballot box thief they have a namakaram, they have a shooter and they have a junkie in their midst," he said while questioning if those characters should be given the opportunity to govern.
He too urged voters to take to the polls and give back his party the over 10,000 voters that were lost in Berbice during the 2011 General Elections.
Around the Web