One woman related how she watched her sister suffer at the hands of a cruel fiancé, another spoke of how she endured years of abuse by a narcissistic husband who took her children in the end and another about how she watched her mother being tormented in the most horrifying ways for 14 years.
These were some of the traumatic yet triumphant stories told yesterday at the Caribbean America Domestic Violence Awareness (CADVA) and Caribbean One Billion Rising sister's circle event held at the Pegasus Hotel. Traumatic because the years of abuse left indelible imprints on the lives of the victims but triumphant because they have all fought to leave that part of their lives behind and now use it to help others who are being abused.
Women cried, some empathised and one could hear "I know what you talking about", "That happen to me" while others could be heard praising the victims for triumphing as story after story of abuse was told. Intertwined in those stories were also powerful messages on how to get the better of an abusive situation as Guyanese women joined the rest of the world in observing International Women's Day.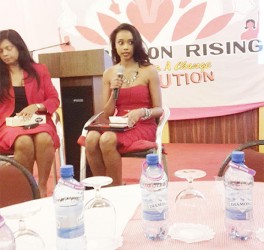 It was a whole-day affair and the dozens of women gathered at the event remained put. It was obvious that while telling their stories was therapeutic for the victims, it was also healing for their listening sisters. The event also featured a counselling room and counsellors on hand to talk to victims in the audience who needed this assistance after hearing the stories,
Very poignant was a memorial mounted in the Savannah Suite of the hotel for women murdered. On the memorial were the faces and in some cases just the names of 140 women slain during a four-year period. Included on that board were Guyanese women who lived outside of Guyana and who were murdered by their Guyanese partners. One of those women was 22-year-old Guiatree Hardat who was murdered by her 38-year-old, Guyana-born, ex-fiancé – a policeman – in New York in 2007.
 'Ever smiling'
Hardat's younger sister, Jyoti, told her story yesterday and she spoke about her sister being smitten by a man who one day offered to walk her home and how at that time she thought he was the perfect gentleman.
She described her sister as a woman who was always smiling but who quickly changed and morphed into someone who they no longer knew, someone who cried every day and no longer cared about her appearance.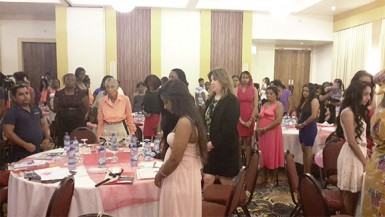 Eventually the sister she loved, the sister she worshipped, the sister who was her only sibling was "stolen and ripped" out of her life by a single gunshot which struck her between the eyes, fired by the service weapon of the man, Harry Roopnarine, she had tried to escape from.
"'If I can't have you then no else can' this is what he told her…" Jyoti told the roomful of women which was so quiet you could have heard a pin drop.
Roopnarine, who was eventually found guilty of the murder but was never remorseful, isolated her sister to such a point that one day he slapped Jyoti across the face because she dared to ask her sister to accompany her on a shopping trip. She remembered that the first time she met the man he flashed his gun at her before shaking her hand and for her that was telling and as she said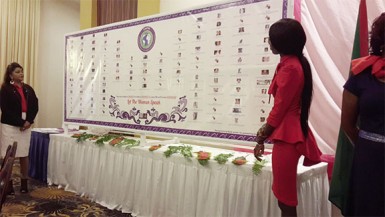 she saw right through him but her older sister was madly in love and attempted to rationalize all of his erratic actions. In the end her sister recognized him for the monster he was but by then it was too late.
She recalled that her sister after being with the man suffered from low esteem even though her little sister saw her as the rock that kept her grounded.
After her sister died Jyoti said she also hit rock bottom and at one time she was so depressed she wanted to commit suicide. She warned that domestic violence or any kind of violence is nothing to be taken lightly.
"We have to be our sisters' keeper," she stressed.
'Personality disorder'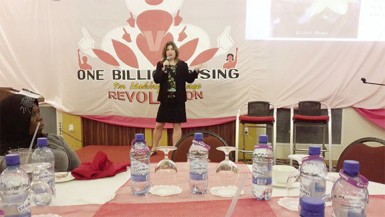 American author Robin Shaye, who wrote the book Until you die-The Narcissistic Promise, recounted her experience. She lived with a man who not only beat her but was smart enough to hide it while he stripped her of her self-worth.
In the book she chronicled what she endured with her husband who she described as a narcissist who had a sense of entitlement while she on the other hand was a very submissive woman.
"I got picked up and thrown outside for not closing the shade when changing and it didn't matter what I was wearing when I was thrown outside," she stated.
She remembered that when she called her mother she always started with 'Hi if I have to hang up right away know he is home' and that she was controlled through isolation. For her it was physical, sexual, emotional and monetary abuse and in the end she managed to leave him but the abuse did not stop.
He fought her for her three children and while two judges awarded her custody the third judge gave him custody, an event that damaged the relationship with her children to such a point that up today her two older children – boys – do not speak to her.
One day she called him to ask when he was going to stop abusing her and he said "Until the day you die" but Shaye said even though she is still at times affected she has not allowed him to determine the direction of her life. She revealed that she had since gotten a fourth child whose father died but she has managed to raise a 16-year-old girl who she said is everything one wishes to have in a child.
 The silent victim
An emotional Ceara Roopchand told of the 14 years she witnessed the horrific abuse of her mother at the hands of her stepfather. She also spoke about the abuse she suffered at the hands of her father with whom she lived for a short period and the near-death experience with her stepmom who she said attempted to stab her with a scissors.
Today, while she has a good relationship with her mom, the London-based woman said the relationship with her dad is very toxic. She views her father as a perpetrator of violence and a bully.
She had to forgive her mom for subjecting her to such a situation and said that she is motivated to tell her story so as to encourage others to come forward so that they could start the healing process.
"It was heart-breaking to hear my mother scream in pain or to hear her crying, heart-breaking with no one to listen to her," she said.
Now she finds it hard to trust people and open up to them and can only recall one time in her life she genuinely told another person "I love you."
CADVA Founder Sukree Boodram, who has spoken and written about her years in an abusive relationship, said that it took her a while to realise the effects the relationship had on her two children.
She noted that a study done among 67 families in which children witnessed domestic violence said it results in less positive sibling relationships, a higher level of disengagement in the child and they are more prone to depression. In these situations the mother can help by trying to offset the effects since they are viewed as counterparts.
Boodram said even years after exiting the abusive relationship and after writing her story and telling it countless times, today she still attends counselling sessions as there is still emotional pain to be dealt with.
"If you are not emotionally and mentally well then you cannot help your children," she pointed out adding that while a mother's warmth can help that suffering child it needs to be consistent.
Yesterday's event also included a tribute to the late Dr Faith Harding whose daughter-in-law, Lisa's video message said she was all about education which is the cure for domestic violence. Lisa said Dr Harding never believed in giving someone handouts but rather giving them the tool to assist themselves.
Tonight, the group will conclude observances with an artistic presentation during which several women are expected to be recognized for their work in domestic violence and also for triumphing over such abuse.
Around the Web