The driver of a Suzuki Sidekick vehicle, PGG 4474, lost his life when he collided with a minibus, BPP 2212, around 10 o'clock last night at Farm, East Bank Essequibo.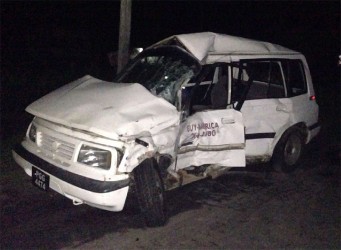 Dead is Sukwah Boodram said to be in his 30s and of Zeeburg, EBE. He was employed at GuyAmerica Super Centre. He was pronounced dead on arrival at the Leonora Cottage Hospital.
Driver of the minibus, Royden Rankin, in his 20s of Tuschen sustained injuries to his shoulder and stomach. He was also treated at the hospital.
Reports are that the left-hand drive Suzuki swerved into the path of the minibus and spun around on impact. The door had to be broken to get the driver out, according to persons at the scene.
The vehicles were heading in opposite directions and were both occupied by the drivers alone. Rankin had just finished working for the day and was on his way home.
Around the Web