Guyana's Ambassador to the Organisation of American States (OAS) Bayney Karran, who is competing for the post     of Assistant Secretary General on March 18, says he wants the regional grouping to build its capacity to head off potential threats to constitutional order in member states.
In his presentation before the Washington, US-based body's Perma-nent Council on March 4, Karran said, "I firmly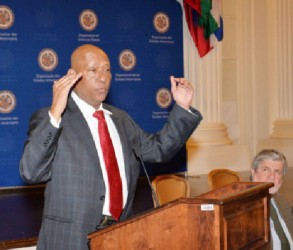 believe that we must enhance the capacity of the General Secretariat to monitor, anticipate and head off potential threats to constitutional order in our Member States, by refining early warning systems and promoting dialogue mechanisms among all national stakeholders."
He also called for the supporting of efforts in member countries aimed at campaign finance reform, constitutional reform and institutional strengthening while at the same time scaling up assistance for elections processes and for the promotion of good governance. "In short, we have to make democracy sustainable," he said.
Several of the issues raised by Karran are germane to the Guyana situation. In December 2012, Guyana had complained to the OAS Permanent Council that democracy here was under threat because of the policies and postures of the opposition. The OAS has also recommended electoral reforms for Guyana.
Karran, who will be competing against the Permanent Representative of Belize to the OAS Nestor Mendez, said that the hemispheric body has to help member states to battle the problems of poverty, inequality and underdevelopment.
"Our smaller and more vulnerable States, which comprise a substantial component of our membership, are not satisfied with our level of accomplishment in this area in spite of some significant successes.
Most Member States believe that we must be more proactive in addressing these challenges. Among the many inequalities that exist, the gap in education is the one that most negatively affects the destiny of each person", he stated.
If elected, Karran, who is also Guyana's Ambassador to the US, said he would work closely with member states to mobilise more resources and channel them into low-cost, high-impact development schemes.
Karran also made several proposals for change including the establishment of an ombudsman office.
He said this would further enhance transparency and accountability in the organisation.
If elected, he said that whistle-blower legislation is a measure he would move to have adopted. He said that it would generate a higher level of confidence and security among employees.
He made a series of other recommendations pertaining to the inner workings of the OAS.
A new Secretary General will also be chosen on March 18.
Around the Web