The Ministry of Agriculture staff member who lost her life on Sunday evening in the Lethem area had been travelling along the Pirara Bridge with her husband, when the vehicle skidded off it, relatives said yesterday.
Thirty-year-old Vimala Balgobin reportedly died on the spot, following the vehicle's 30-ft plunge off the bridge, while her husband, Safraz Ameer, is currently hospitalized.
Stabroek News understands that Balgobin, Project Coordinator for the Rural Enterprise and Agricultural Development (READ) in the Ministry of Agriculture and her husband, both of Lot 104 Mon Repos Housing Scheme, East Coast Demerara had left Georgetown for Lethem on March 6, where she was scheduled to visit various areas and perform her normal duties. They were both on their way to put fuel in the vehicle for the return trip, when the accident occurred.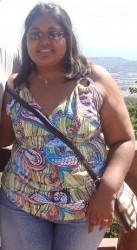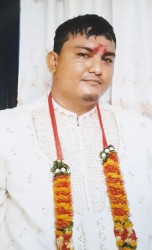 According to her grieving father, Tarachand Balgobin, who could not stop crying, Vimala worked in different areas throughout the country helping women set up rural enterprises.
He said she had a number of meetings in various villages in the Lethem area and was expected to return yesterday morning.
Balgobin said that from what he understood Vimala and her injured husband were some half an hour drive away from Lethem and were heading back there to fuel up the vehicle. He said although she had to visit various areas they were staying in Lethem, since they used there as a satellite for the areas she was destined to visit.
He explained to this newspaper, "There is a particular bridge, the Pirara Bridge, that is apparently a dangerous one. There is a stretch of road, those roads are made of laterite, and they come down a hill and go around a turn.
Then when you turn that said turn and if you are not clear about what you are doing… you may be on the bridge without even realizing you are." He said that once on the bridge, if the driver brakes there is a positive possibility that the vehicle would skid.
He further stated that although he was not there when the accident happened, he assumed that maybe as they were getting onto the bridge, Ameer must have touched his brakes and the vehicle skidded off.
Balgobin who visited the scene of the accident said that what he learnt was that the vehicle tilted turned over on Vimala's side, causing her to sustain fatal injuries.
Through his tears, the father said what was more hurtful was that his daughter had a lot of plans that she was unable to achieve. "Vimala was a very intelligent girl," he said. "She attended the University of Guyana and studied International Relations where she pursued a degree, then she went on to her MBA at the Arthur Lok Jack School of Business, University of West Indies (UWI). There she graduated as best graduating student in 2014 with Distinction."
He added that with all this being achieved, he personally knew that his daughter wanted to further her studies.
Meanwhile, Ameer who is currently a patient at the Georgetown Public Hospital (GPH) sustained fractured ribs and is said to be recovering.
Balgobin said the doctors spotted some dark spots in the said area and he is being examined to see if there is any internal bleeding.
A post-mortem examination performed on the dead woman's body yesterday revealed that she died as a result of severe injuries to her head and spine.
Vimala will be cremated on Saturday since the family is awaiting the arrival of her only sister who resides in England.
Around the Web