Police have cleared Joylyn Oliver of any suspicion in the death of her common-law husband Jermain Giles, who was shot during a home invasion at their Barnwell North, Mocha, East Bank Demerara home on Sunday morning.
Sister of the dead man, Doreen Emptage, told Stabroek News that the family members were informed by the investigating rank yesterday that Oliver is cleared of having any knowledge of the shooting after a test for gunpowder residue on her hands proved to be negative.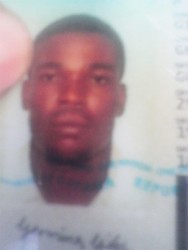 In addition, a post-mortem examination performed yesterday on the body of Giles confirmed that he died as a result of gunshot injuries to the head.
Giles, 34, and Oliver were said to be sleeping at their residence when they were both awakened by loud noise coming from their door.
Giles reportedly peeped out of a window located at the back of the house to see the source of the noise but he was shot once to the left side of his face by one of two men. The men then entered the home through the same window and approached Oliver demanding money and gold.
She told them she didn't have anything and the men made off with only two cell phones.
Around the Web