The father of Zaharudeen Rozan, the detainee who died after sustaining injuries while in the Parika Police Station lock-ups, is accusing police of a cover-up and he says there are people with information who are refusing to come forward over fear of being victimised.
Rozan, 38, of Cornelia Ida, West Coast Demerara, was arrested after he allegedly damaged a neighbour's fence. He was taken first to the Leonora Police Station and then to the lock-ups at Parika, where he died.
The dead man's father, Abdul Majeed, yesterday reiterated that his son had visible marks of violence to many parts of his body, which is inconsistent with an epilepsy attack. He questioned why the police did not take this into account, before adding that bite marks on one's tongue is not enough to prove such an attack had indeed occurred.
"I never knew that he does ketch fits. He wife, chirren, nobody. The police just trying to cover up this thing," he said.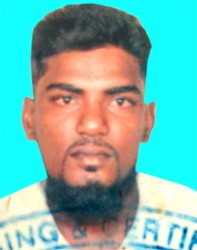 "If you dying and you fighting up, you can bite up yuh tongue in the process. So your tongue bite up ain't mean that is fits you had," the man added, while stressing that he fully supports and agrees with the position recently put forward by the Epilepsy Foundation of Guyana (EFG).
In a letter to this newspaper last week, the EFG said that it is "highly unlikely" that Rozan's death was consistent with an epileptic seizure as was being claimed by police.
Police have claimed that the man died after banging his head against the concrete wall and noted that an autopsy found that Rozan had bite marks on his tongue and that this was consistent with an epileptic seizure.
The EFG's President Thomas Singh and Secretary Daam Barker subsequently said in a joint letter that it very difficult to associate "bite marks on the tongue" with an epileptic seizure that led to his sudden death. "In the first instance, no evidence has been presented to indicate, as is being suggested, that the blunt trauma was the result of a (presumably grand mal) seizure. It is much more common for seizures to occur after "trauma to the head." Unless therefore the autopsy revealed the sequence of what happened, it would simply be impossible to attribute causation to either event," they added.
They said too that while it is possible that Rozan died because of a seizure, it is highly unlikely that was the situation in this case. They pointed out too that it is highly unlikely that Rozan would have been operating a minibus unless his seizures were being effectively managed and very well controlled, "in which case his family would have known that he was an epileptic."
Majeed has said he did not know his son was epileptic although he had been told the man had suffered an attack in the five months since he had moved out.
Stabroek News was told the Police Force's Office of Professional Responsibility (OPR) is wrapping up its investigations into Rozan's death with a view of sending the file to Chairman of the Police Complaints Authority (PCA) Cecil Kennard for his input.
When contacted, Justice Kennard said that while he has not seen the EFG letter, if given a copy he will consider its contents when giving his recommendation. He noted that if there is evidence which contradicts the police's version of events, he will certainly look at it in the interest of ensuring that justice is served. Justice Kennard said too that "whatever relevant documents are out there, a relative can bring it in."
When contacted about the letter, Crime Chief Leslie James said he had not seen it. When told of the contents and asked if it will be looked at, James said it is something that may be of interest to the Director of Public Prosecutions (DPP).
He stressed that the police are looking at the circumstances surrounding Rozan's death.
Cover up
Yesterday, Majeed accused the police of covering up his son's death. He said a shop owner has given him some vital information but he is afraid to speak out.
Majeed said based on what the man said and the wounds he saw on his son's body, he is even more convinced that Rozan was a victim of police brutality.
He said that he knows a few persons in his home community who suffer from such seizures and the first point he would note is that they don't fall forward but rather backward. He said that most of the wounds his son sustained were to the front of his body.
According to Majeed, the police refused to check the body with him present even though they had given a verbal undertaking to do so. He said that when he examined it, there were marks of violence to the front of the head and he strongly disputed the commander's version that Rozan was banging his head on the bars in the lock-ups. Newspaper reports had said that the man was hitting his head against the wall of the lock-ups prior to his death.
Majeed said even if his son did suffer such a seizure, he would not have died and he would not have had injuries to his body. The man said his son had a broken arm, injuries to his hands, both knees and all his joints. He said that on examination, it appeared to him that he was hit. "Both knees got more than bruises. Is like is something hit am," the man said, adding that the wounds were visible. He said that at the autopsy the doctor focused on his son's head and stomach and paid little attention to the rest of his body.
He said he hasn't gone to the police yet as he was told that the investigation has to go through a process.
Majeed also expressed concern that his son was the second person to have died under questionable circumstances while in the custody of West Demerara policemen. He said that in both cases the men were arrested for minor offences.
Around the Web