A woman was yesterday sentenced to 56 months in jail after being found guilty of possession of cocaine that was stuffed into boulangers and intended to be placed on a flight to Toronto, Canada.
Bhanmattie Persaud was also fined $11,097,000, equivalent to the street value of the drug, at the conclusion of her trial before Magistrate Judy Latchman at the Georgetown Magistrates' Courts.
Persaud, a 39-year-old mother of three, of Lot 460 Lusignan Grass Field, East Coast Demerara, was charged with having 12.330 kilogrammes of cocaine in her possession for the purpose of trafficking on November 30, 2013, at the Cheddi Jagan International Airport (CJIA), Timehri.
She had denied the charge.
Ranks of the Customs Anti-Narcotics Unit (CANU) had found the cocaine stuffed into locally grown boulangers at the CJIA.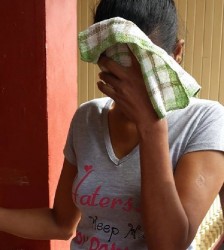 Stabroek News had been told that the bust occurred as ranks were checking the vegetable shipment, which was scheduled to be placed on a Caribbean Airlines flight. Based on what this newspaper was told, the drug traffickers cut off the tops of the boulangers, scooped out the inside and filled them with parcels of cocaine. The tops were then pasted back on.
When the case was called yesterday, Persaud's lawyer, Motie Singh, was absent but the woman was informed by the court that it would proceed with or without him. Persaud was then called upon to lead a defence and she elected to give sworn testimony from the witness box.
Persaud, who cried throughout her testimony, nervously related that her involvement in the case was due to her becoming involved with a seafood exporter, whom she named. She said he later informed her of a friend, named "Ravi," with whom he was involved in shipping.
According to Persaud, the man took her to meet his friend at Soesdyke but he informed them that he would not be involved and instead another friend, identified as "Basil," would.
She said at her partner's request, she collected goods at a Bourda Market location that Basil had showed her. She said there was boulanger, squash and thyme. She later accompanied her partner to the airport, she added. "We go and Basil was already there when we reach. He bring some empty box and start pack the vegetables," she explained.
Afterward, she said her partner gave her money to get a taxi home from the airport and she left him and Basil.
"Me go home and a couple days after me sister call me and tell me how somebody tell she CANU want me and when me ask she if she sure, she said, 'Yes, they want some Lolita.' That is me calling name," she added.
According to Persaud, she informed her partner and he advised her to go to see what CANU wanted. She added that her sister called back and instead advised her to go to a lawyer.
She said she took the advice of her sister and went to the lawyer, only to find her partner and his two friends there already. "When I reach deh, all three of them went sitting down in the office and me ask them wah wrong and the lawyer say is not nothing fuh me to worry about, how he done know everything," Persaud added.
She even said she was asked if she wanted to return home or go to CANU but she said she chose to go CANU, after which she was told by the men that she would remain there if she went.
"Me go and tell CANU everything that I tell the court that I know but I just don't know of any drug in the boulanger because if me bin know, me would a neva carry am," Persaud said, while wiping tears from her eyes with a tissue that was given to her by a police officer.
"The lawyer talk to Mr Mohanlall Persaud and then he tell me how they will ask me some question, which them do, and then they ask me to sign at the bottom. After me done sign, they send me to the police station and since then I in lock up on to now. Everybody else get free but me lef here. Me never see back the lawyer and when I call he, he don't answer, and I hear [partner and his friend] gone to Trinidad," she added.
Persaud also spoke about her children. "One a the boy, he write exam in 2013 and get 15 subjects, the girl still in school and the other boy I hear he get wayward, he sleeping out two night and thing," the woman said.
Under cross-examination by the prosecution, the defendant said she started the relationship with the man for the sake of her children, since the money she was working for was very little to maintain them. When questioned about love and trust for him, she said he was always good to her but she had never focused on love.
In closing, the prosecution asked the court to find the defendant guilty as charged and at the same time send a strong message to potential offenders who are planning different means to traffic illegal drugs.
The magistrate subsequently delivered the guilty verdict based on evidence led throughout the trial and proceeded with sentencing and the imposition of the fine.
Around the Web