Remanded murder accused Daveanand Albert was pronounced dead on arrival at the New Amsterdam hospital after he was found unresponsive in his cell at the New Amsterdam prison on Sunday.
Fifty-one-year-old Albert was found lying motionless on his bed around 10PM on Sunday. Albert, of Lot 1 Bhanjara Sawmill Dam and Lot 1 Grant 1803 Crabwood Creek, Corentyne was remanded to prison on March 10, 2014, after being charged with murder of his wife. He had been on the run for four years before he was arrested.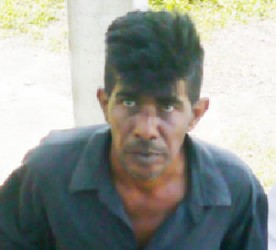 According to police sources, Albert was diagnosed with a heart condition while in prison and had been treated at the New Amsterdam hospital. He was last treated on March 2, when he was also diagnosed with tuberculosis.
At the time of his death, Albert was awaiting trial in the Berbice High Court after having been committed to stand trial on August 29, 2014 in the Springlands Magistrate's Court for the 2010 murder of his wife, Esther Liloutie Albert.
She had been pronounced dead at the Skeldon hospital after she had sustained a head injury the night prior to her death. It had been reported that Albert allegedly hit the woman with a broom, dealt her several slaps and choked her before pushing her down a flight of stairs. The man reportedly picked her up, washed off the blood and put her to bed. She remained there all night, groaning in pain. A post-mortem examination had revealed that Esther died of manual strangulation.
Albert, who escaped to Suriname, was eventually nabbed due to his deportation from the neighbouring country. After his deportation, he was being processed at the Springlands Police Station and an alert police officer recognised him and he was immediately arrested.
Around the Web