A Berbice River man was remanded to prison on Monday on a charge of attempted murder, stemming from an altercation at a wedding house, where he allegedly stabbed another man who was trying to part a fight.
Arjoon Mohabir, 20, called `Bolo,' of Friendship, Berbice River, appeared before presiding Magistrate Sherdel Isaacs-Marcus at the New Amsterdam Magistrate's Court.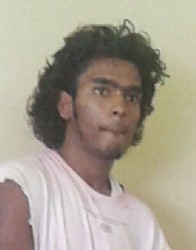 The unrepresented Mohabir was not required to plead to the charge, which stated that he unlawfully and maliciously wounded Ajay Kissoon, with intent to murder him, on Saturday, February 28th, 2015 at Angoy's Avenue.
According to the case against Mohabir, he and another person had a misunderstanding at a wedding house at Angoy's Avenue and it escalated into a scuffle. It is alleged that Kissoon attempted to part the fight but Mohabir took out a knife and stabbed him in his chest and ran away. The injured Kissoon was rushed to the New Amsterdam Hospital, where he was admitted as a patient. Kissoon was only discharged from the New Amsterdam Hospital on March 5th.
Police Corporal Prosecutor Desiree Pilgrim objected to bail on the grounds that the accused was only caught and arrested by lawmen six days after the attack.
Mohabir, when given a chance to address the court, told the court that he was attacked by four men and he was alone. He also explained that he was afraid to report to the police station after the incident because it was the first time he had ever been involved with the law. He added that he was hiding at his mother's home. Mohabir was subsequently denied bail and the case was adjourned until March 23rd.
Around the Web