A man was sentenced to three years in jail yesterday after he was found guilty of possession of cocaine for trafficking.
Darren Peters, 41, was found guilty of having two grammes of cocaine.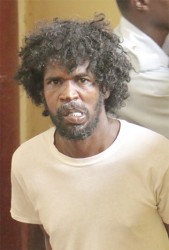 He had pleaded not guilty to the charge during his arraignment on February 7th and was remanded to prison.
However, Magistrate Judy Latchman found Peters guilty of the offence after a short trial, where two witnesses testified.
Peters was unrepresented throughout the proceedings.
In making her ruling, the magistrate said she believed that Peters had physical control of the cocaine.
When asked if he wanted to say anything after being told he was found guilty, Peters said, "I don't know much ma'am. Please for a chance. My worship, you said that I was found guilty but I begging for a chance."
Having considered all the evidence given and the need to prevent others from committing the offence, the magistrate sentenced Peters to the next three years in prison. In addition to the jail sentence, Peters was also fined $30,000.
Around the Web