Almost a month after he lost an eye while trying to be a peacemaker, Kamal Khan yesterday found himself accused of being the aggressor in a violent robbery.
It is alleged that on March 1, at Laing Avenue, Georgetown, Khan, being together with others, robbed Parmanand Davendranauth of a cellphone and quantity of cash amounting to $11,500 and at the time immediately before or after the attack he used personal violence towards the victim.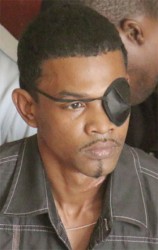 Khan, a gold miner of Triumph, East Coast Demerara, pleaded not guilty when the charge was read to him by Chief Magistrate Priya Sewnarine-Beharry at the Georgetown Magistrates' Court 1.
Khan and Davendranauth are known to each other, according to police.
Police Prosecutor Bharat Mangru objected to bail, citing the seriousness of the offence.
However, the court heard that Khan was released on station bail one day after he was arrested.
Khan was granted $100,000 bail and the matter was adjourned to March 24.
Khan was involved in a scuffle almost a month ago that led to the loss of his left eye.
He was trying to be a peacemaker at a BBQ and Lime, held at his friend's place on Valentine's night, when he was attacked by two men, who also chopped him about his body.
Around the Web