The survivor of the crash at Pirara, Rupununi said that he and his wife lay in their vehicle trapped for around two hours.
Safraz Ameer, whose wife Vimala Balgobin, died in the accident on Sunday was yesterday afternoon discharged from the Georgetown Public Hospital.
The grieving man told Stabroek News yesterday that he and his now dead wife, Project Coordinator for the Rural Enterprise and Agricultural Development (READ) project in the Ministry of Agriculture, left Annai just minutes after 1:00 hours Sunday and were heading back to Lethem when they were in involved in the accident.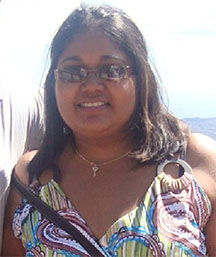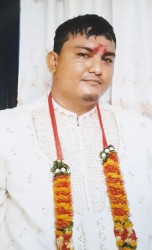 Ameer told Stabroek News, that after Balgobin had finished her work a co-worker told them that they could take a drive to Bon Fim in Brazil without having to use a passport. He further said, that they both went since Balgobin wanted to take the drive.
"Like others she would talk about what they did at the meeting and what happen and so and we were also discussing our personal life and goals including those of her projects, because it was a long drive like couple miles", Ameer related as he burst into tears.
He added, there were humps on the road throughout the drive also and she told me 'be careful'.
As the injured man spoke, he agonized over how he was going to face his wife's parents. "On one of the roads I don't know if both of us sleep away or we were too deep in our own conversation, but when we realize it, the vehicle hit one bump like and just turned square. She told me to be careful again, but I turn once, turn twice and try to get back straight but I couldn't pull back…and the vehicle just toppled, with the wheels left up in the air while most of the impact was on her side", he explained.
After all that had transpired he said they were left in the creek for over two hours where he shouted for help and couldn't do anything but watch his wife lying trapped on her seat.
Three men eventually arrived and tried to right the vehicle but were unable to do this.
Balgobin, and her husband, both of Lot 104 Mon Repos Housing Scheme, East Coast Demerara had left Georgetown for Lethem on March 6, where she was scheduled to visit various areas for her work.
Around the Web