Walking the streets of Diamond Housing Scheme, East Bank Demerara last night urging residents to go out and vote on May 11th, political activist Courtney Crum-Ewing was shot dead execution-style. The car-borne gunmen escaped.
The 40-year-old man, who had staged a one-man protest outside of the office of Attorney General Anil Nandlall calling for him to resign,was shot several times to his body and left dead on Third Street, Diamond shortly before 8 pm. It was the first evening he was galvanizing residents of his community to vote.
Residents said that they heard Crum-Ewing, on his bullhorn, from about 7pm last evening urging voters to not stay at home come May 11th and take to the polls to oust the incumbent PPP/C government. They said that before one hour had elapsed, gunshots were heard and the former soldier lay dead in a desolate area at the intersection of 3rd and Back Street, Diamond.
"I heard him earlier in the night, he was saying that everyone who was eligible to vote should exercise their franchise and throw out this corrupt government less they suffer another five years," one resident told Stabroek News.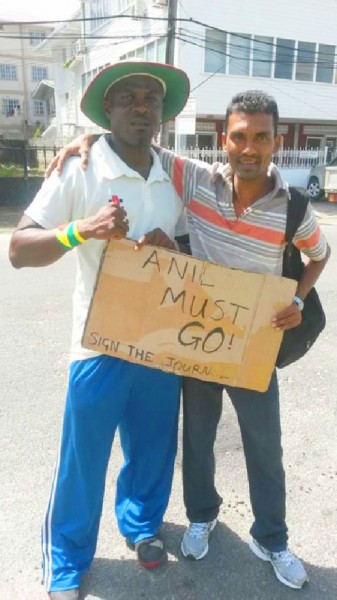 "He passed me again as I stood chatting with a friend in 3rd Street and I even turned to say 'this man really aint got nothing to do, you mean this night he on loud speaker walking telling people about voting'. We continued talking and about 10 minutes after we heard about five shots-one first and then the four in rapid succession…it came from a low calibre gun, maybe a pistol, but looking up the road we couldn't see anything," the man added.
He said that not five minutes had elapsed before they saw a police pick-up speed through the street and realized that someone was probably shot.
However it was not until they went in the direction of the police and the shooting that they realized that it was Crum-Ewing who was killed.
Another resident who lives a short distance from where the shooting occurred and who was walking in front of Crum-Ewing on her way home said that the shooting seems mysterious as she was quite sure no vehicles passed them in 3rd Street .
"I looked back and saw him going to a yard to speak to someone …then (it) seems he didn't bother so I continued and reached inside and heard about three shots…when we rushed out it all seemed funny because two vehicles, a silver Rav 4 and a white 212 were parked facing each other with their lights on and the body in front of them," the woman said.
"We were shocked too that right after the police drive up and I know police in Diamond they don't respond so quick for nothing so something don't make sense here tonight," the woman added.
She said that the police removed about three spent shells from on the roadway and later called for the Lyken Funeral Parlour to collect the body.
The man's parents Eustace and Donna Harcourt told this newspaper they were not at home when they learned of his death but received a phone call telling them he was gunned down in Third Street, a little after 8 pm.
Donna said the oldest of her four children had conducted the same 'Get out and Vote' exercise earlier in the day on Regent Street and she last saw him when he had completed it around 2 pm to go and pick up his niece from school.
Both parents believe that their son was killed because of the exercise he was conducting and are calling on the relevant authorities to get to the bottom of it.
Crum-Ewing protested for several weeks last year for Nandlall to quit over the contents of a phone conversation he had with a reporter of Kaieteur News.
The police last night said, that at about 2000h. yesterday, Crum-Ewing, 40 years, of Golden Grove, EBD, was walking along the roadway at Third Street, Diamond, EBD, when a car with four men drove up from which shots were discharged at him, after which the men escaped. Crum-Ewing was hit to his body and was taken to the Diamond Diagnostic Centre where he was pronounced dead on arrival. It said that investigations are in progress.
The Ministry of Home Affairs issued the following statement on the killing: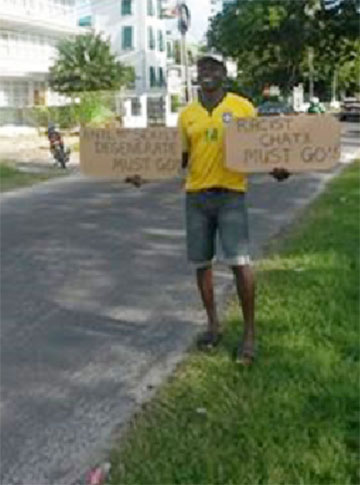 The Ministry of Home Affairs condemns in the strongest possible terms, the shooting to death of Courtney Crum-Ewing by unknown person or persons this evening in the Grove /Diamond area, East Bank Demerara.
The Minister of Home Affairs has given orders to the Commissioner of Police to take immediate action with a view to getting to the bottom of this execution-type shooting incident, through the most thorough investigation.
Though it is early yet to draw any specific conclusion or motive in connection with the perpetration of this dastardly act, the Ministry of Home Affairs wishes to alert the general public to be vigilant in respect of any act of violence provoked or unprovoked, that might be possibly initiated by those who may have a political agenda.
The Ministry notes the deep coincidence between the fatal shooting incident and the earlier swearing in of the new Commissioner of Police.
The Ministry extends its sympathy to family and relatives of Courtney Crum-Ewing and pledges to support the police in their investigations to bring the perpetrator or perpetrators to justice.
The ministry calls on anyone who may have knowledge about the circumstances /motive surrounding the shooting death of Courtney Crum Ewing to give their full support to the police in their investigation.
Around the Web