President Donald Ramotar has confirmed Seelall Persaud as the Commissioner of Police but Opposition Leader David Granger says he was not meaningfully consulted on the appointment as is required by the law.
Granger, in an invited comment yesterday, said Ramotar did invite him to a consultation on the issue but he declined on the grounds that he wanted Persaud to address his role in the recent promotion of two cops who had tortured a teenage boy in 2009 at the Leonora Police Station.
"This is no longer an administrative issue, it is a legal issue," Granger told Stabroek News, while stressing that the Constitution was not followed and he added that he has since spoken to his lawyer about the constitutional breach.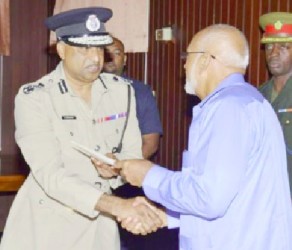 Article 211 (1) of the Constitution provides for the Commissioner of Police and Deputy Commissioner of Police to be appointed by the President after meaningful consultation with the Leader of the Opposition and the chairperson of the Police Service Commission.
Granger said he could not see how the appointment could have been done when he was never consulted. "No such consultations have taken place," he emphasised.
Granger went on to explain that he had written to Persaud seeking answers about the promotions and in a response he was referred to the Police Service Commission.
Asked if he was surprised at the move by the President, Granger said nothing done by the current administration surprises him.
In the face of questions about the promotions of Narine Lall and Mohanram Dolai, who burnt the genitals of the then 15-year-old detainee, Persaud said last month the ranks were exonerated and that life must go on.
The swearing-in ceremony was held at the Office of the President (OP) yesterday afternoon and it lasted a little over five minutes. It was attended by leading government officials, the police high command, senior members of the judiciary, army chief Mark Phillips, Fire Chief Marlon Gentle, Persaud's wife and one of their two daughters, among others.
Head of the Presidential Secretariat Dr. Roger Luncheon and Minister of Home Affairs Clement Rohee left almost immediately after the ceremony ended, while others stayed and mingled, congratulating Persaud and posing with him for photographs.
Following the event, members of the police force band were on hand to serenade Persaud as he left the OP compound.
Persaud's confirmation came less than a year after he was appointed to act as Police Commissioner, following the retirement of Leroy Brumell. Brumell was appointed the acting commissioner in early 2012 after the then Police Commissioner Henry Greene became embroiled in a rape scandal. Brumell was never confirmed to the substantive position until the following year and just six months shy of the retirement age.
After Persaud took the oath of office, President Ramotar congratulated him, stressing that he had the government's full support in the execution of his duties. He was said to have been the government's initial choice after Greene's exit.
A composed Persaud told those gathered that he accepted the confirmation with humility and a great sense of accomplishment. He said his almost 31-year-long career in the force had been a long journey with a bumpy road marred with challenges. Those challenges, he said, eventually led to opportunities.
Persaud said that the few years he had left in the force will be devoted to making it a "more professional" one that "embraces values of democracy."
Stabroek News understands that Persaud has at least three years remaining before he reaches the age of retirement.
When later asked by reporters about his efforts to improve the force, he said these have already commenced.
He noted that the implementation of a five-year strategic plan has started as has a social crime prevention programme.
He also said a lot of efforts have been made to deal with police excesses. "It is not like something new that will start today," he added.
In light of recent cases, he was asked if prisoners dying while in police custody is high on his agenda. Persaud said since "I came on I have taken on that." He said if one looks at some of the law enforcement television programmes, it would be noted that directions have been given that no one should be in custody for minor offences. He said that there is a range of Standard Operating Procedures that are in place and which ought to be adhered to.
The Office of Professional Responsibili-ty, he also said, is now conducting unannounced visits to police stations to check what is happening and appropriate action is taken where necessary to ensure everything is in order.
On the issue of his plans for addressing growing traffic concerns, Persaud noted that last year was "a bad year" for the Traffic Department but said they are working hard to address the problem areas. He said most of the fatal accidents are caused by speeding and drunk driving. "These are two things that we are targeting in traffic and we are going even more beyond prosecuting in court," he added.
Persaud went on to state that the naming and shaming campaign that the force is carrying out has made an impact so far. "A lot of people go to court. They are charged and their friends don't know, their relatives don't know… but when it appears in the paper, it brings some pressure to bear and to make them become more conscious about what their recklessness is contributing to," he said, in direct reference to the publication of the names and photographs of persons guilty of driving under the influence.
Persaud also noted that the force is trying to prevent harassment of motorists by ranks through routine traffic stops. "Ranks have been instructed, do not make a traffic stop unless they would have seen an offence being committed. No more routine stops," he said.
Asked whether he sees his appointment two months before the much anticipated general elections as a challenge to him, Persaud said he saw no difficulties now or ahead as he had been preparing for this period since Parliament was prorogued late last year. The preparation, he said, intensified with the announcement of the date for elections.
Persaud said the police force has been preparing for a lot of the "side impacts" of elections. "We started retraining on public order issues, on election campaign issues and so on, so our ranks can have an understanding of what the law is, what they are required to do, what their role is when they get on the ground," he explained.
Asked what message he would send to persons who intend to create mischief during this period, the commissioner said, "We are preparing for a worst case situation, way beyond what we expect to happen." A worst case situation, according to Persaud, would be where there is a total breakdown of law and order.
Persaud served most of his career within the Criminal Investigation Department (CID). He headed the drug squad for 10 years and the CID for seven years.
He believes he is well-qualified to be Commissioner. He said just recently he wrote to the Police Service Commission, asking for the criteria it uses to promote police officers. He said he did so to get a sense of what the values are from the Commission's perspective and to prepare the junior ranks so that they don't miss opportunities for promotion.
"For policing, there are a number of things that would cause somebody to be good at what they do and those have to do with understanding the culture in which you operate, to let learning take place, which either come from institutions… command is a big issue and senior officers must be able to command. Compassion, because you deal with people… gender-based violence you must have an understanding of what this is all about. Understanding the law is crucial," he noted in a bid to explain the qualities of a well-rounded policeman.
Around the Web