A woman was yesterday fined $40,000 after claiming that she falsified a form to get a new passport in order to travel to Barbados to earn for her children.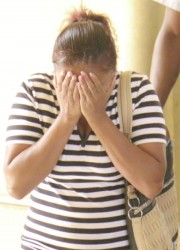 The allegation against Seeta Munroe, 35, stated that on June 18, 2012, at the Central Immigration and Passport Office, in Georgetown, she made a false statement, that is to say she signed a written declaration form saying she is Enid Bacchus, knowing the same to be false, in order to procure a new passport.
"I did this because of my kids. I does work and mind them because me and me husband separate and is Barbados I was going to work. I am very sorry," a crying Munroe told Chief Magistrate Priya Sewnarine-Beharry after pleading guilty to the charge. If Munroe fails to pay the fine, she will have to serve a three-month-long prison term.
Around the Web