Imbued with a passion for justice and deep patriotism from a young age, political activist Courtney Crum-Ewing never relented until his life was snuffed out on Tuesday night at Diamond Housing Scheme on the East Bank of Demerara.
Crum- Ewing leaves behind memories in the minds of the public that he was a seeming lone ranger out for justice but to his friends and family he was always a loving and principled person.
Stabroek News sat down for an interview with the family of the boy who dreamed of being President at his Diamond, East Bank Demerara home where they reflected on the indelible memories they are left with.
"From a little boy Courtney stood for what he believed and to the day he died he remained that person," his mother Donna Harcourt told Stabroek News.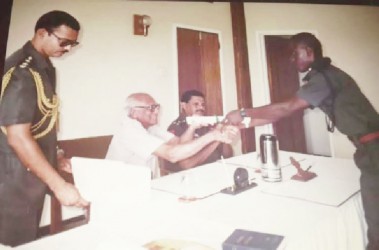 She explained that the former Queen's College student, was the first born of her four children. She said that when he was born they lived in West Ruimveldt and she believed in raising her children to "speak their minds" and always be truthful. She said that she was not a parent who practised corporal punishment because she experienced severe beatings as a child herself and did not want the same for her children.
"He was born on the 8th of June, the first fruit of my womb and I loved that child…I never beat them because I grow up in blows and didn't want that for them so I told them 'no reason to lie speak your piece as you saw it' and that was Courtney," she fondly related.
At the Sacred Heart School, where he received his primary education, Courtney Crum-Ewing excelled in every grade and was one of a few students at his school who gained a place at the nation's top high school, Queen's College.
His mother and father, Eustace Harcourt, retold a meeting between the then 10-year-old Courtney and late President Forbes Burnham that they said saw a renewed drive to excel in the lad.
"Burnham was visiting West Ruimveldt and Courtney run up to meet him. He looked down at this little child and greeted him and asked him what he wanted to be when he grew up. Courtney told him 'A President, I will be a President'" his father said.
"Burnham looked at him turned his head on the side and told him 'You know you cannot just say you want to be president, because saying it without working towards it will not get you there young fellow so educate yourself, work hard' and Courtney believed that every time he kept getting first place in his class he was one step towards that dream," his mother chipped in.
They said that somewhere during his teenage years Crum-Ewing became fascinated with planes and changed his career passion to becoming a pilot.
He also had equal passions for sports and current affairs, always keeping up-to-date with the politics of the country. He played all sports but focused more on cricket, athletics and basketball.
After excelling at the Caribbean Examinations Council exams Crum-Ewing turned to working at the Ministry of Finance, as his parents could not afford to send him to study in the field of his dreams nor did he receive a scholarship.
There, he met a friend who would remain his mentor to this day and it was that man who encouraged him to join the army so that he could become a pilot. "I can't remember the man it's a big man who worked there at Finance…he explained to him that if he joined the army cadet programme he could get to study in the discipline he wanted as they had an Air Corps also," she said.
The man's mother said getting to join the Air Corps was not as easy as Crum-Ewing or his friend thought since while he was accepted into the army cadet's programme and graduated with honours he was offered the post of jungle commander. This was a position the young man refused and went to see top officials to challenge it.
"Courtney row, he told us we didn't understand the army because to get into certain programmes the children whose parents knew the big officers were placed there and the others were left for the poorer cadets. He told them that when he signed up was to get into the Air Corps because he thinks about his future and no one wants to hire an old Jungle Commander so what will he do with that?," she questioned.
He was then placed in the Maritime section and accepted that post but soon after was accused of stealing prawns and subsequently dismissed. The decision, she said, was challenged in court and Crum-Ewing won the case and was paid a settlement.
He moved to Antigua to seek employment there, with the aim of returning to his homeland with his savings and settling.
Return he did in 2013, purchasing a minibus and establishing a car sales business similar to the one he owned and operated in Antigua.
However he was shocked at the reality of Guyana's politics, on his return, and took to social media and blogs to air his views on the injustices he saw meted out to persons and comment on government corruption.
He impacted on his friends who encouraged him in his works with one from Australia sending him the megaphone he held when he was killed on Tuesday night. "His friends encouraged him, people some total strangers were inspired," his mom noted.
Late last year after learning about Attorney General Anil Nandlall's taped conversation with a Kaieteur News reporter, Crum-Ewing took a few hours from his day job and began protesting against the AG calling on him to resign. He was adamant in his stance promising to not give up until Nandlall resigned because he believe that he was not fit for public office.
He remained resolute and only stopped after President Donald Ramotar announced a date for Regional and General Elections.
His mother stressed that Courtney himself was not political as he was never affiliated with a party or worked for a party but after persuasion from an APNU+AFC executive signed up to be a volunteer at the May 11th general elections.
"He felt Guyanese were a timid people, a people living in fear to speak out against being oppressed by government so he said he would lead the charge and was not afraid to die for it. He said maybe when persons saw him speaking out they would gain courage.
He always said fear gets you nowhere and told me that if you are to die from fire you won't drown," she said shaking her head.
His siblings spoke of a dedicated family man who loved his three daughters and was always a protector as the oldest of the four of them. They would communicate daily and he always had positive words for each.
They say that while their loved one is dead his memories will forever be etched fondly in their memories as they remember the son, brother, father, uncle, friend, confidant, sportsman, exercise buff and political activist.
"We ate together, slept together, huddled in fire trenches together, talked for hours till late in the night, drank a lot of beers together and shared so much… The pressure we went through together made us brothers, and even though we fought and had different views, I always respected the man that put himself out there to defend his view" a close friend of Crum- Ewing lamented.
Around the Web